Indonesia has been independent since 1945, after having been the Dutch East Indies for more than 350 years. It is a huge country, stretching along both sides of the Equator for more than 46 degrees of longitude (roughly 5100 km or 3200 miles). Comprised of some 17,000 islands (more than 6000 inhabited islands), it has hundreds of major aids to navigation. Unfortunately, it's difficult to know how many of these aids can be considered lighthouses. Information about them is scarce, and photos are even scarcer. Official light lists contain dozens of entries for "framework towers" and "white beacons," providing little guidance for the lighthouse fan.
Sumatra (or, as Indonesians prefer, Sumatera) is the world's sixth largest island and the westernmost of the major islands of Indonesia. It is separated from Malaysia to the north by the Malacca Strait, from Borneo to the northeast by the broad Karimata Strait, and from Java to the southeast by the Sunda Strait. Its south coast faces the open Indian Ocean. This page includes lighthouses of the west coast of North Sumatra Province.
This page is probably not complete. Listed here are towers at locations known to be historic Dutch light stations, plus some additional sites at which there is some evidence for a lighthouse. Added to this is an appeal for more information and photos; if you know about lighthouses in Indonesia, please share that knowledge.
The Indonesian word for a lighthouse is mercusuar. The phrase menara suar, which includes the Arabic word menara, is sometimes used instead. Tanjung and ujung are words for capes, pulau is an island, selat is a strait, and teluk is a harbor.
Aids to navigation in Indonesia are operated and maintained by the Directorate General of Sea Navigation.
ARLHS numbers are from the ARLHS World List of Lights. Admiralty numbers are from volumes F and Q of the Admiralty List of Lights & Fog Signals. U.S. NGA List numbers are from Publication 112.
General Sources

Historic postcard views from the collection of Michel Forand.
Photos by various photographers available from Wikimedia; most of the photos are historic.
Photos by various photographers available from Lightphotos.net.
Coming soon: photos by various photographers posted by Alexander Trabas.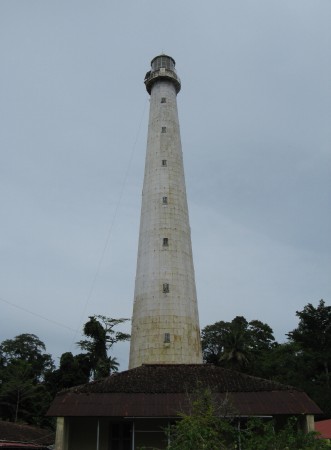 Pulau Bojo Light, Batu Islands, October 2008
photo copyright Dietrich Lange; used by permission