Located on the north coast of South America, the Bolivarian Republic of Venezuela has a long coastline facing the Caribbean Sea. This page includes lighthouses of the eastern half of that coast, from the La Guaira-Caracas area eastward. The Western Venezuela page includes lighthouses on the remainder of the coast. In addition Venezuela administers a number of islands in a westward extension of the Lesser Antilles chain. The lighthouses of the Isla Margarita and Venezuela's other Caribbean islands are listed on the Venezuela: Caribbean Islands page.
Venezuela is a federal republic of 23 states, a capital district, and a federal territory administering the more remote Caribbean islands.
The word for a lighthouse is faro in Spanish; smaller lighthouses are often called balizas (beacons). In Spanish isla is an island, cabo is a cape, punta is a promontory or point of land, péñon is a rock, arrecife is a reef, bahía is a bay, ría is an estuary or inlet, estrecho is a strait, río is a river, and puerto is a port or harbor.
Active lighthouses in Venezuela are owned by the navy and managed by the Oficina Coordinadora de Hidrografía y Navegación (Ochina).
ARLHS numbers are from the ARLHS World List of Lights. Admiralty numbers are from volume J of the Admiralty List of Lights & Fog Signals. U.S. NGA numbers are from Publication 110.
General Sources

Photos by various photographers posted by Alexander Trabas. The Venezuelan photos are mostly by Capt. Peter Mosselberger ("Capt. Peter") or Capt. Theodore Hinrichs ("Capt. Theo").
Photos by various photographers available from Wikimedia.
Photos by various photographers available from Lightphotos.net.
Posted by DHN, a map locates the Venezuelan lighthouses with their names and geographic coordinates.
Historic postcard images posted by Michel Forand.
Historic postcard images posted by Klaus Huelse.
Navigation chart for Venezuela.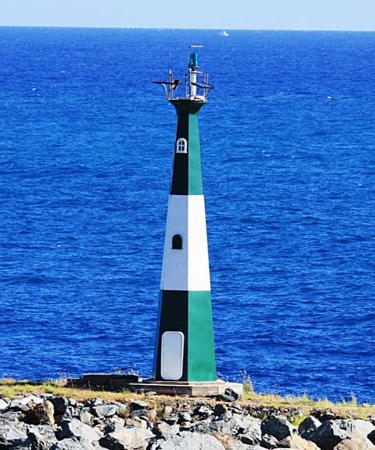 North Breakwater Light, La Guaira
photo copyright Capt. Theo Hinrichs; used by permission