Burma, as it was called for many years, became a British colony as a result of a series of colonial campaigns between 1826 and 1886. Governed until 1937 as a part of the British Empire of India, the country became independent in 1948. A military junta took control in 1988 and changed the country's name to Myanmar. Civil unrest and international sanctions have made the nation unattractive or dangerous for foreign tourists; as a result we know little of the status of the lighthouses built in British Burma. (It doesn't help that none of the historic lighthouses are accessible without boat transportation.) Current information and photos are badly needed.
Myanmar is divided into seven regions, mostly inhabited by the dominant Bamar population, and seven states, mostly inhabited by ethnic minorities.
The Myanmar (Burmese) word for a lighthouse is meepyatite (မီးပြတိုက်). An island is kyun, myit is a river, and siutkam is a port or harbor.
Aids to navigation in Myanmar are maintained by the Myanmar Port Authority (MPA), an agency of the Ministry of Transport.
ARLHS numbers are from the ARLHS World List of Lights. Admiralty numbers are from volume F of the Admiralty List of Lights & Fog Signals. U.S. NGA List numbers are from Publication 112.
General Sources

Photos taken in January 2011 and November 2014 by Andreas Köhler.
Photos by various photographers available from Lightphotos.net.
Coming soon: photos by various photographers posted by Alexander Trabas.
Historic postcard views posted by Michel Forand.
Historic postcard views posted by Klaus Huelse.
Navigation chart for Myanmar.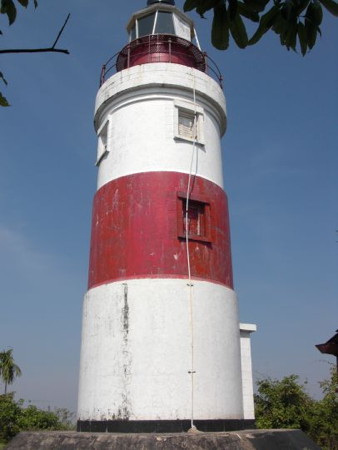 Green Island Light, Kyaikkami, January 2011
photo copyright Andreas Köhler; used by permission