Iceland is an island nation in the North Atlantic roughly 800 km (500 mi) northwest of Scotland. Settled by Norse explorers around 870, Iceland has had a legislature since 930 and has generally functioned as a self-governing commonwealth, but for centuries it was also part of the Kingdom of Denmark. In 1918 Iceland was granted full autonomy and in 1944 it declared its independence as a republic.
This page includes lighthouses of two of Iceland's eight regions: Austurland (the east coast) and Suðurland (the south coast).
In Icelandic, the word for a lighthouse is viti (plural vitar); ey is an island, nes is a cape, and höfn is a harbor. The Icelandic alphabet includes the old Norse letters "eth" (Ð and ð) and "thorn" (Þ and þ), which are pronounced with the softer and harder forms of the th sound, respectively.
Lighthouses in Iceland are regulated by the Icelandic Transport Authority (Samgöngustofa, or ICETRA), which also maintains and operates the major coastal lights. Local port authorities operate harbor lights.
ARLHS numbers are from the ARLHS World List of Lights. VIT numbers are from the Vitaskrá, the official Icelandic light list. Admiralty numbers are from volume L of the Admiralty List of Lights & Fog Signals. U.S. NGA List numbers are from Publication 115.
General Sources

Posted by the Icelandic Maritime Museum (Sjóminjasafn Íslands), this site has small photos and historical notes for Iceland's lighthouses.
Photos of 70 Icelandic lighthouses by Klaus Huelse.
Photos by various photographers posted by Alexander Trabas. The photos for this area are by Ronald Wöhrn, Erich Hartmann, and Eckhard Meyer.
Photos and accounts (in English).
Photos by various photographers available from Wikimedia.
Flickr.com pool for photos of Icelandic lighthouses (well over 1000 photos).
Photos by various photographers available from Lightphotos.net.
An attractive web site with several photo galleries; primarily in Icelandic.
The official Icelandic light list can be downloaded in pdf format.
Navigational chart information for Iceland.
Navigational chart for Iceland.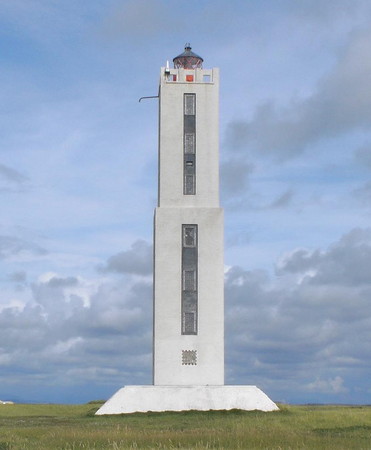 Knarrarós Light, Stokkseyri, August 2008
Flickr Creative Commons photo by Seli Oskarsson