The U.S. state of West Virginia is in the Appalachian Mountains west of Virginia and southeast of Ohio. The Coast Guard maintains aids to navigation on the Ohio River waterway along the northwestern border of the state, but those aids do not qualify as lighthouses. This page includes one private lighthouse on Summersville Lake.
Note: To be listed here, a lighthouse must actually serve as an aid to navigation. This means it must be located on a navigable lake or river and must be lit as a navigational aid at least during the local boating season.
Lighthouse

* [Summersville Lake]

2012. Active; focal plane about 165 ft (50 m); flashing white light. 104 ft (32 m) round steel tower with lantern and double gallery. Lighthouse painted white, lantern and gallery black. Terri Shifflett's photo is at right, Jaime Pettry has a photo, Michael Wiley has a 2017 photo, there's a photo of the lighthouse in action (and decorated for the Christmas holidays), and Google has a satellite view. In 2009 workers building the Beech Ridge Wind Farm lost one of the new turbine towers when it rolled away down the mountainside. Steve and Donna Keblesh, owners of the Summersville Lake Resort, bought the runaway tower section and had it transported by a circuitous 100 mile (160 km) route to the resort. Erecting the tower and completing it as a lighthouse involved engineers and technical education students from several surrounding counties. The resort has a web page for the lighthouse. The lighthouse is open to guided tours daily, but visitors should be aware that climbing the stairway in the narrow tower is strenuous. Summersville Lake is a reservoir on the Gauley River in central West Virginia; it is the largest lake in the state. The lighthouse stands high above the lake, providing wonderful views, but it has little navigational value. Located at the resort, on Summersville Lake Road (WV 129) off US 19 near Mount Nebo in Nicholas County. Site open, tower open daily (admission fee). Owner/site manager: Summersville Lake Retreat.
Notable faux lighthouses:
Adjoining pages: Northwest: Ohio | Southwest: Kentucky
Return to the Lighthouse Directory index | Ratings key
Posted March 17, 2013. Checked and revised August 3, 2019. Lighthouses: 0. Site copyright 2019 Russ Rowlett and the University of North Carolina at Chapel Hill.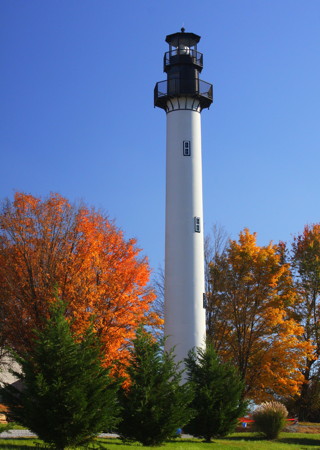 Summersville Lake Light, October 2012
Contributed photo copyright Terri Shifflett,
courtesy of Donna Keblesh; used by permission