Wallis and Futuna is a small French territory at the western end of Polynesia in the South Pacific Ocean, west of Samoa, northwest of Tonga, and northeast of Fiji. The islands were colonized in the 1880s and were governed as a dependency of New Caledonia until 1961. The total population of the territory is about 12,000. Wallis (called 'Uvea in Polynesian) has an airport, and commercial flights are available from New Caledonia.
The territory has no traditional lighthouses, but the unusual minor light shown at right is of interest to lighthouse fans. Lights in the territory are managed by the Service des Phares et Balises in New Caledonia.
Special thanks to Michel Forand for his research on the lights of the smaller territories of the Pacific.
Admiralty numbers are from volume K of the Admiralty List of Lights & Fog Signals. U.S. NGA List numbers are from Publication 111.
General Sources

Coming soon: photos by various photographers posted by Alexander Trabas.


Wallis ('Uvea) Lightbeacon

[Île Nukuatea (Honikulu Pass) Range Rear]

Date unknown. Active; focal plane 98 m (322 ft); white light, 2 s on, 2 s off. 7 m (23 ft) masonry wall rising gracefully to support a square concrete post light. Anna Strumillo's photo is at right, and Google has a satellite view. The range guides vessels through the pass at the southern end of the 'Uvea reef. The front light is mounted on a simple post in the water. Located atop a ridge near the southeastern tip of Nukuatea, a smaller island off the southern end of 'Uvea. Accessible only by boat. Site open. Admiralty K4760.1; NGA 3152.1.
Information available on lost lighthouses:
Notable faux lighthouses:
Adjoining pages: East: Samoa | South: Fiji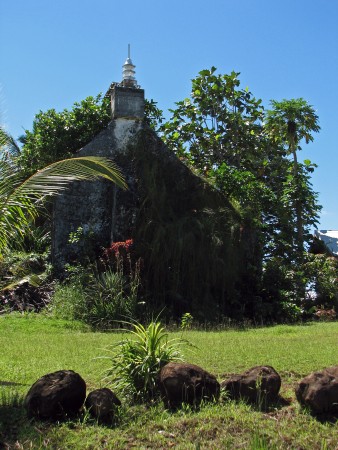 Île Nukuatea Range Rear Light, June 2010
Panoramio photo copyright Anna Strumillo
used by permission