The Republic of Singapore is an independent city-state located on an island off the tip of the Malay Peninsula. The city faces the Singapore Strait, the shortest route connecting the Indian and Pacific Oceans, giving the city one of the world's most strategic locations. Singapore was founded as a British outpost in 1819 by Sir Thomas Stamford Raffles and for 140 years it was the keystone of the British Empire in the Orient. From 1858 until Japan occupied Singapore in 1942 the island was part of the Straits Settlements, a crown colony that also included several British territories in Malaya. After Japan's defeat in 1945 Singapore became a separate crown colony. In 1963 it joined with Malaya, Sabah, and Sarawak in the Federation of Malaysia. Tensions between the city's urban population and the population of the rest of the federation proved to be too great, so in 1965 Singapore left the federation to become independent.
English is an official language in Singapore, along with Chinese (Mandarin), Malay, and Tamil. English is the language of government and commerce but geographic names are often in Malay; in that language pulau is an island, batu is a rock, tanjung is a cape, bukit is a hill, sungai is a river, kuala is the mouth of a river, teluk is a bay, selat is a strait, and pelabuhan is a harbor.
Aids to navigation in the heavily-traveled Singapore and Malacca Straits are regulated by the Malacca Strait Council, a consortium of the maritime authorities of Singapore, Malaysia, and Indonesia. Singapore's aids to navigation are operated and maintained by the Maritime and Port Authority of Singapore (MPA).
ARLHS numbers are from the ARLHS World List of Lights. Admiralty numbers are from volume F of the Admiralty List of Lights & Fog Signals. U.S. NGA List numbers are from Publication 112.
General Sources

Information available from Wikipedia.
Photos and information from the Maritime and Port Authority.
Photos available from Wikimedia (including the photos illustrating the Wikipedia articles).
This electronic reference is maintained by the National Library of Singapore. Search for "lighthouse" to locate articles on each light.
Photos by various photographers posted by Alexander Trabas.
Photos by various photographers available from Lightphotos.net.
Historic postcard views posted by Michel Forand.
Historic postcard views posted by Klaus Huelse.
Navigation chart for Singapore.
Navigation chart for Singapore.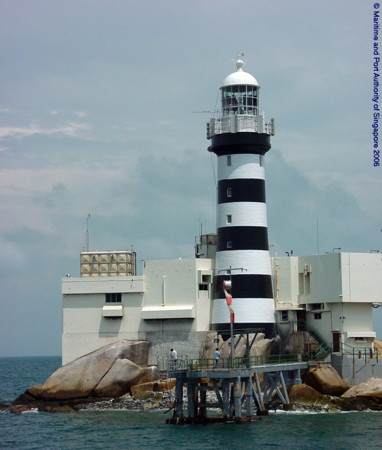 Horsburgh Light, 2006
Maritime and Port Authority of Singapore photo