This page covers lighthouses of southwestern Québec in the region of Montérégie, south of the St. Lawrence River opposite the metropolitan Montréal area. The St. Lawrence is one of the world's greatest inland waterways: ocean-going ships sail the river to Montréal and many continue on the St. Lawrence Seaway to the Great Lakes.
(Officially the Montérégie Region also includes the Vaudreuil-Soulanges Municipality north of the river. Lighthouses of that area are described on the Western Québec page.)
The lighthouses of southwestern Québec are certainly among the least well known of all Canadian lighthouses. In fact, many of them don't seem to have been known at all until recent years. Special thanks are due to the late Michel Forand for his help in compiling these listings.
Aids to navigation in Canada are maintained by the Canadian Coast Guard. In 2008 Parliament passed the Heritage Lighthouse Protection Act to designate and protect historic lighthouses. In 2010 the Coast Guard declared the great majority of lighthouses to be surplus, and there is fear that this may lead to the disposal and possible destruction of many lighthouses. This fear is particularly acute along the St. Lawrence, where the small lighthouses do not enjoy the support of local preservation groups. In fact, dozens of lighthouses have already been lost in this region.
ARLHS numbers are from the ARLHS World List of Lights. CCG numbers are from the Atlantic Coast portion of the List of Lights, Buoys, and Fog Signals of Fisheries and Oceans Canada for most lighthouses, and from the Inland Waters list for lights in and west of Montréal. Admiralty numbers are from Volume H of the Admiralty List of Lights & Fog Signals. U.S. NGA numbers are from Publication 110.
General Sources

Photos and text, including travel directions, by Kraig Anderson.
Fine aerial photos posted by Marinas.com.
Photos of Québec lighthouses taken in 2008 and posted by C.W. Bash.
Photos by various photographers available from Wikimedia.
Photos by various photographers posted by Alexander Trabas. Most of the photos for the St. Lawrence are by Michael Boucher.
Historic postcard views posted by Klaus Huelse.
Official Canadian light lists.
Navigation chart information for the Sr. Lawrence.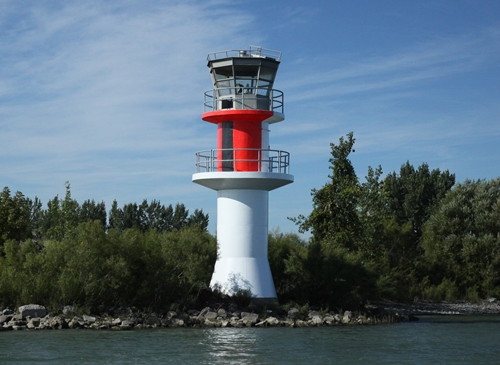 Île Sainte-Thérèse Upper Range Front Light, Varennes, September 2011
photo copyright Jon Clay; used by permission

Longue Pointe Traverse Upstream Range Front Light, Longueuil
photo copyright Michael Boucher; used by permission