The Principality of Wales, a part of the United Kingdom, occupies a mountainous peninsula to the west of England, surrounded by water on three sides. Most of the coastline is rugged, scenic, and hazardous to navigation. The lighthouses of the country are clustered in the north, guarding the approaches to the Mersey, and in the south, guarding the approaches to the Severn. The largest number of lighthouses can be found at the northwestern corner, the Isle of Anglesey, and the southwestern corner, in Pembrokeshire.
The major coastal lighthouses are maintained by Trinity House, the English lighthouse administration. Several, including South Stack, St. Ann's Head, and Nash Point, are among the best known and most visited British lighthouses.
The Welsh language Cymraeg is spoken commonly in many parts of Wales, especially the north and west. The Welsh word for a lighthouse is goleudy; trywn is a cape, pen is a headland, and ynys is an island.
ARLHS numbers are from the ARLHS World List of Lights. Admiralty numbers are from Volume A of the Admiralty List of Lights & Fog Signals. U.S. NGA numbers are from Publication 114.
General Sources
Trinity House

Chartered by Henry VIII in 1514, Trinity House has built and operated lighthouses in Britain for nearly 500 years.
There is lots of useful information on this site by Michael Millichamp, including his Guide to English and Welsh Lights, an inventory of surviving English and Welsh lighthouses.
Photos by various photographers posted by Alexander Trabas.
Photos by various photographers available from Wikimedia.
Photos by various photographers available from Lightphotos.net.
Excellent aerial photos posted by Marinas.com.
Founded by serving and retired keepers, this lighthouse association is open to everyone.
Historic postcard images posted by Klaus Huelse.
Navigational chart information for Wales.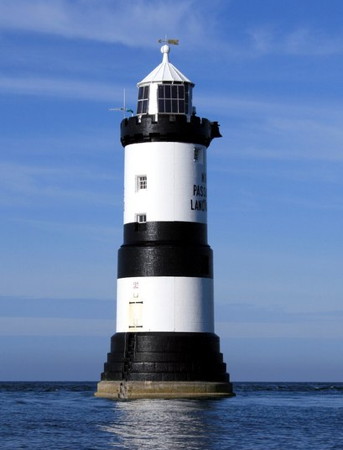 Trwyn Du (Penmon Point) Light, Penmon, September 2009
Geograph Creative Commons photo by Jeff Buck