This page lists lighthouses of Fukushima prefecture on the east coast of Honshū, Japan's largest island. Facing east on the Pacific Ocean, the coast of Fukushima is relatively low by Japanese stanadards. Onahama, the harbor district of Iwaki City, is the major port.
This coast was devastated by the great Tōhoku earthquake and tsunami of 11 March 2011. The major lighthouses are high enough above the sea to escape the tsunami; all were damaged by the earthquake to some extent but they have been returned to service. Many harbor lights, however, were overturned or destroyed by the tsunami. In addition to the direct damage from the tsunami Fukushima also suffered the disastrous failure of its nuclear power plant; as a result a part of the prefecture has been closed to the public since the disaster. Along the coast the exclusion zone includes most of the coastline of Futaba, all of the coastline of Okuma, and the northern coastline of Tomioka.
In Japanese, the word for a lighthouse is tōdai or toudai (灯台). The words saki and misaki are for capes and headlands, shima (also spelled sima or jima) is an island, wan is a bay, and kō is a harbor. Lighthouses in Japan are operated and maintained by the Japanese Coast Guard's Maritime Safety Agency. On Honshū there is usually one Coast Guard Section Office in each prefecture. That is the case in this region, with one section office at Fukushima City.
ARLHS numbers are from the ARLHS World List of Lights. JCG numbers are the Japanese Coast Guard's light list numbers. Admiralty numbers are from volume M of the Admiralty List of Lights & Fog Signals. U.S. NGA List numbers are from Publication 112.
General Sources
Lighthouses in Japan - Fukushima

A comprehensive site, although almost entirely in Japanese.
Another comprehensive site, in Japanese, with pages for each prefecture.
This web site, cited below as FOAL, has photos for many Japanese lighthouses.
Photos and notes for lighthouses in all parts of the country.
This site has photos for many lighthouses in this area.
Photos by various photographers available from Wikimedia.
This page on the Coast Guard Office's web site has small photos and historical information for three of the major lighthouses.
Photos posted by the Coast Guard Second Region office.
Coming soon: photos by various photographers posted by Alexander Trabas.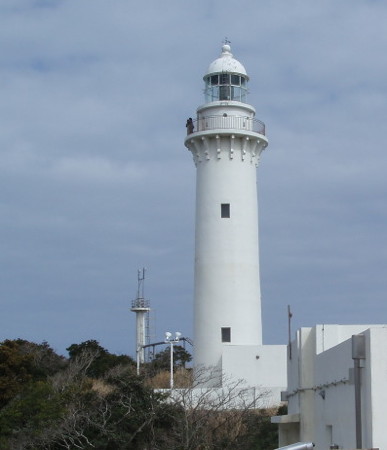 Shioya Saki Light, Iwaki
Japanese Coast Guard Second Region photo