The Canadian province of Ontario has a tremendous width east to west, including the entire Canadian side of the Great Lakes. Across this vast area there were once about 250 lighthouses. More than 130 remain, a large percentage of them active. This page lists the lighthouses in the southern part of the province including Lake Ontario and the lower Niagara River. Lighthouses of Lake Erie are listed on the Southwestern Ontario page and lighthouses of the St. Lawrence River on the Southeastern Ontario page.
Aids to navigation in Canada are maintained by the Canadian Coast Guard. In 2008, Parliament passed the Heritage Lighthouse Protection Act to designate and protect historic lighthouses. In 2010, the Coast Guard declared the great majority of lighthouses to be surplus, and there is fear that this may lead to the disposal and possible destruction of many lighthouses. This fear is particularly acute in more remote areas, where the lighthouses do not enjoy the support of local preservation groups. In fact, dozens of lighthouses have already been lost in this region.
A note: this page has been greatly improved by the comments and corrections of Michel Forand.
ARLHS numbers are from the ARLHS World List of Lights. CCG numbers are from the Inland Waters volume of the List of Lights, Buoys, and Fog Signals of Fisheries and Oceans Canada. For lights near the international border, USCG numbers are from volume 7 of the U.S. Coast Guard Light List.
General Sources

Excellent photos plus historical and visitor information from Kraig Anderson's LighthouseFriends.com web site.
Excellent photos posted by C.W. Bash; several of these photos appear on this page.
Aerial photos posted by Marinas.com.
An extension of Bryan Penberthy's US-lighthouses.com site.
This site, maintained by Neil Shultheiss, has excellent photos and brief but informative accounts for many of the lighthouses on both the Canadian and U.S. sides of the Lakes.
Photos by various photographers available from Wikimedia.
Photos by various photographers available from Lightphotos.net.
Historic postcard views posted by Klaus Huelse.
Official Canadian light lists.
Nautical chart information for Lake Ontario.
U.S. nautical charts for the regions along the border can be viewed online.

Burlington Canal Main Light, Hamilton, October 2006
Flickr Creative Commons photo by C. W. Bash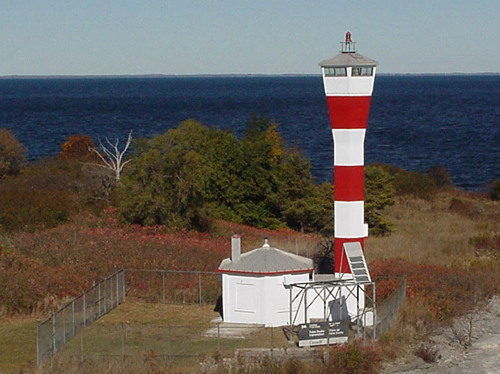 False Duck Island Light, Prince Edward County
Canadian Coast Guard photo