The name Micronesia is often used in a broad geographical sense, meaning all the small islands of the central and northwestern Pacific Ocean. Here it refers specifically to the Federated States of Micronesia (FSM). There are separate pages for lighthouses in other island countries of the Micronesian region, including Palau, Guam, the Northern Marianas, the Marshall Islands, Kiribati, and the U.S. Pacific Remote Islands.
The FSM is remarkable in having had four colonial administrations. The islands (then called the Caroline Islands) were controlled by Spain until the Spanish-American War of 1898. Following that war, Spain transferred the islands to Germany. Japan seized the islands from Germany in 1915, during World War I, and moved quickly to make several of them major naval bases. Japan also built three lighthouses in the territory. The U.S. took the islands from Japan in very hard fighting during World War II.
After the war, the U.S. administered the islands as part of the Trust Territory of the Pacific Islands. The Federation, linking the states of Kosrae, Pohnpei, Chuuk, and Yap, was formed in 1979 and became independent in 1986. The new country signed a compact of free association with the United States; this agreement provides for U.S. economic subsidies and continues various U. S. domestic services to the Federation's citizens.
The capital of the Federation is Palikir, Pohnpei. The total population is a little over 100,000.
ARLHS numbers are from the ARLHS World List of Lights. Admiralty numbers are from volume M of the Admiralty List of Lights & Fog Signals. U.S. NGA List numbers are from Publication 111.
General Sources

Photos by various photographers available from Lightphotos.net.
Coming soon: photos by various photographers posted by Alexander Trabas.
This map is useful for understanding the geography of the islands.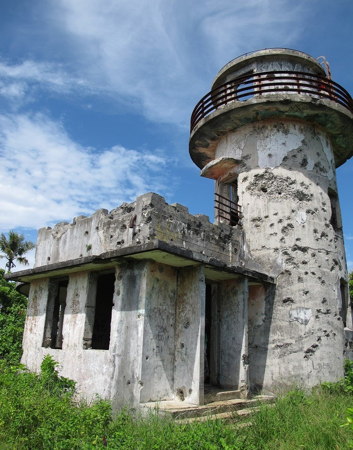 Sapuk Light, Weno, Chuuk State, May 2016
Flickr photo copyright Roderick Eime; used by permission