The Republic of Colombia occupies the northwestern corner of South America. Connected to North America by the Isthmus of Panama, Colombia has coasts facing west on the Pacific Ocean and northwest on the Caribbean Sea. Colombia was colonized by Spain early in the 16th century and was ruled as part of the Viceroyalty of New Granada until the viceroyalty won its independence in a complex struggle in 1810-1823. The country of Colombia assumed its present borders in 1831.
Colombia is divided into 33 departments (departamentos). This page includes the lighthouses of the eight mainland departments of the Colombian Caribbean; there are separate pages for the Pacific Coast and for the Caribbean island department of San Andrés and Providencia.
The word for a lighthouse is faro in Spanish; smaller lighthouses are often called balizas (beacons). In Spanish isla is an island, cabo is a cape, punta is a promontory or point of land, péñon is a rock, arrecife is a reef, bahía is a bay, ría is an estuary or inlet, estrecho is a strait, río is a river, and puerto is a port or harbor.
Aids to navigation in Colombia are owned by the Autoridad Marítima Colombia and maintained by the Dirección General Marítima (DIMAR).
ARLHS numbers are from the ARLHS World List of Lights. DIMAR numbers are from DIMAR's Lista de Luces de la República de Colombia. Admiralty numbers are from volume J of the Admiralty List of Lights & Fog Signals and U.S. NGA numbers are from Publication 110.
General Sources

Photos by Capts. Peter Mosselberger and Theo Hinrichs and by Michael Boucher, posted by Alexander Trabas.
Posted by the Cartagena newspaper El Universal, this article by Jorge Sanduval Duque describes the early lighthouses of Cartagena.
Photos by various photographers available from Wikimedia.
Photos by various photographers available from Lightphotos.net.
Historic postcard views posted by Klaus Huelse.
Navigation chart of the Colombian Caribbean coast.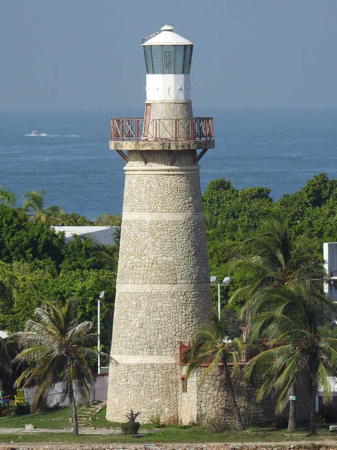 Castillo Grande Light, Cartagena
photo copyright Capt. Peter Mosselberger; used by permission