Guǎngxī (more properly Guǎngxī Zhuàngzú Zìzhìqū, the Guǎngxī Zhuàng Autonomous Region) is an autonomous province of China, located in the extreme south of the country adjacent to Vietnam. Historically the Guǎngxī region was landlocked, but in 1952 the People's Republic transferred the westernmost coastal portion of Guǎngdōng Province to Guǎngxī. This decison was reversed in 1955 and then reinstated in 1965.
The coastline of Guǎngxī extends for about 200 km (125 mi) along the north end of the Gulf of Tonkin. Běihǎi (formerly Pakhoi) and Qīnzhōu are the major ports.
Lighthouses in China are maintained by the PRC Maritime Safety Administration. The administration is organized in four regional administrations, with district offices in the major ports. The lights on this page are maintained by the Zhànjiāng MSA office in Guǎngdōng, which is included in the Guǎngzhōu Region.
The pinyin system for transliterating Chinese into Latin characters is now the international standard, but some locations continue to be known also under the spellings of older transliteration systems. The Chinese word for a lighthouse is dēngtǎ (灯塔). In pinyin jiāo (formerly chiao) is a reef or rock, jiǎo is a cape or headland, dǎo (tao) is an island; yǔ (tsu) is a small island, wān is a bay and gǎng (kang) is a harbor.
ARLHS numbers are from the ARLHS World List of Lights. CN numbers are the serial numbers used by the Shànghǎi regional office of MSA. Admiralty numbers are from volume P of the Admiralty List of Lights & Fog Signals. U.S. NGA List numbers are from Publication 112.
General Sources

Coming soon: photos by various photographers posted by Alexander Trabas.
A useful tool for juggling the representations of Chinese names.
A fine collection of U.S. Army Map Service maps of China, in English, posted by the University of Texas Library.
Navigation chart information for the Gulf of Tonkin.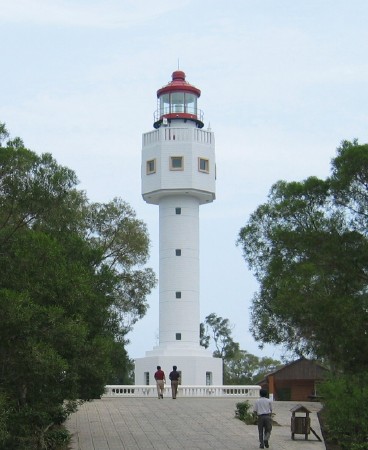 Wéizhōudǎo Light, Wéizhōu
PRC MSA Guǎngdōng Region photo