Denmark, located at the mouth of the Baltic Sea, includes the north-pointing peninsula of Jylland (Jutland) in the west and a large number of islands to the east. The capital, København (Copenhagen), is on the island of Sjaelland. Other major Danish islands include Fyn (between Sjaelland and Jylland), Lolland and Falster (south of Sjaelland) and Bornholm (farther east in the Baltic). This page covers the lighthouses of Fyn and neighboring islands, including Ærø and Langeland.
Fyn (called Funen in English and German) is roughly elliptical in shape, measuring about 100 km (60 mi) northwest to southeast and 80 km (50 mi) southwest to northeast. It is separated from Jylland on the west by the narrow strait of the Lille Bælt (Little Belt), and from Sjælland (Zealand) on the east by the wider strait of the Store Bælt (Great Belt). The E-20 expressway crosses the island from west to east, crossing the Store Bælt by the Great Belt Fixed Link, completed in 1998. The island has a population of about 450,000 and is governed along with southern Jylland in the South Denmark (Syddanmark) region.
The Danish word for a lighthouse is fyr. The front light of a range is the forfyr and the rear light is the bagfyr. In October 2011, the government placed maintenance of Danish aids to navigation under the Danish Maritime Authority (Søfartsstyrelsen).
ARLHS numbers are from the ARLHS World List of Lights. DFL numbers are from the Dansk Fyrliste. Admiralty numbers are from volume C of the Admiralty List of Lights & Fog Signals. U.S. NGA List numbers are from Publication 116.
General Sources


A comprehensive site on Danish lighthouses by Ole Henrik Lemvigh, with many photos; the text is entirely in Danish.
Photos by various photographers posted by Alexander Trabas.
A fine web site by Malte Werning, with excellent photos.
Photos of more than 100 Danish lighthouses, with notes in English.
Photos of more than 175 Danish lighthouses posted by Klaus Huelse.
Photos by Larry Myhre.
Photos by various photographers available from Wikimedia.
Photos by various photographers available from Lightphotos.net.
Aerial photos posted by Marinas.com.
History of the Danish lighthouse service, with photos of selected lighthouses, posted by the Danish Environment and Energy Ministry (Miljø & Energi Ministeriet).
Historic postcard views posted by Klaus Huelse.
Official Danish light list (in .pdf format); the list also includes lights of Greenland and Faroes.
Navigational chart information for Denmark.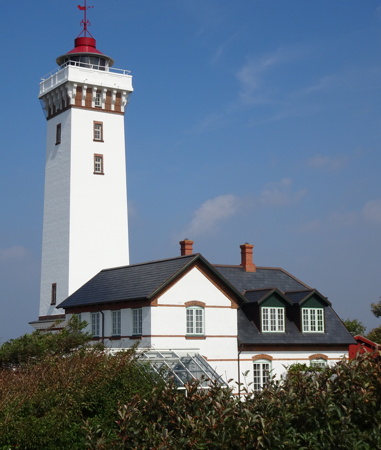 Helnæs Light, Lindehoved, August 2018
photo copyright Heather Craven; used by permission