This page covers lighthouses of the many Greek islands of the central and eastern Aegean Sea. These islands fall into three broad groups. First, the Cyclades include a large number of smaller islands north of Crete and southeast of Athens. Second, there are the larger islands lying off the Turkish coast in the northeastern Aegean, including Lesbos, Chios, and Samos. Finally, the Dodecanese Islands include the large island of Rhodes and many smaller islands of the southeastern Aegean. The Cyclades and Dodecanese were formerly prefectures within the region of the South Aegean; Lemnos, Lesbos, Chios, Samos, and Ikaria are regional units (counties) within the region of the North Aegean.
Crete has a separate page. The Sporades, islands located in the northwestern corner of the Aegean, are a regional unit of the Thessaly Region and are included on the Northern Greece page. Kithera and Antikithera, located at the southwestern entrance to the Aegean, are a municipality of the Attica Region and are included on the Southern Greece page.
The modern Greek nation is a relatively recent creation. After several centuries of rule by the Ottoman Turks, southern Greece won its independence in a bitter struggle during the 1820s. The new Greek nation controlled the Cyclades but none of the other islands of the Aegean. They were added at various times as indicated in the notes below for the different island groups.
The Greek word for a lighthouse, pháros or fáros (φάρος), is the root for the words for lighthouse in many Western European languages. In Greek nisis is an island, akra is a cape or headland, kolpós is a bay or gulf, and limáni is a harbor.
Lighthouses in Greece are maintained by the Hellenic Navy Hydrographic Service.
ARLHS numbers are from the ARLHS World List of Lights. Admiralty numbers are from volume N of the Admiralty List of Lights & Fog Signals. U.S. NGA List numbers are from Publication 113.
General Sources


A comprehensive site posted by amateur radio operator Pavlidis Savas (SV2AEL); it includes data and photos for 120 traditional Greek lighthouses.
Photos by various photographers posted by Alexander Trabas.
Aerial photos posted by Marinas.com.
Photos by various contributors.
Photos by various photographers available from Wikimedia.
Photos by various photographers available from Lightphotos.net.
Photos by various photographers posted by Bernd Claußen.
Historic postcard images posted by Klaus Huelse.
Navigational chart information for the Aegean.

Spathi Light, Sérifos, May 2008
Flickr Creative Commons photo by Dimitris Tsapelas (no longer online)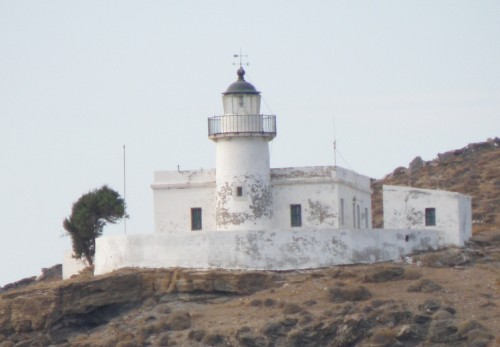 Támelos Light, Kéa, August 2009
Flickr Creative Commons photo by Irene-Angelica Chounta