Russia (Россия, Rossiya in Russian) is by far the world's largest country, spanning a little over 150° in longitude. It is organized as the Russian Federation (Rossiyskaya Federatsiya) with 85 members known as federal subjects (sub'yekty federatsii). Russia is primarily a continental nation but it has important coastlines on the Baltic, Black, and Caspian Seas and very long coastlines on the Arctic Ocean and North Pacific Ocean. To guard these coasts it operates hundreds of lighthouses, many of them historic.
Novaya Zemlya ("New Land") is an archipelago in the Arctic Ocean consisting of two islands, Ostrov Severny (North Island) and Ostrov Yuzhny (South Island), separated by a narrow fjord called the Matochkin Strait. The 56 km (35 mi) wide Kara Strait separates Ostrov Severny from Ostrov Vaygach (Vaygach Island), which in turn is separated from the mainland of Siberia by the very narrow Yugorskiy Strait.
The islands represent the northernmost extension of the Ural Mountains; they have a total length of more than 800 km (500 mi) and a width of up to 100 km (60 mi). Novaya Zemlya separates the Barents Sea on the west from the Kara Sea on the east, and geographers consider it to be the northeasternmost extension of Europe. During the Cold War the Soviet Union conducted tests of nuclear weapons on the islands and the small population today (a little under 2000) is associated with military bases established during that period. Most live in the settlement of Belush'ya Guba ("Beluga Bay") founded in 1897 at the southwestern end of the archipelago. Novaya Zemlya is administered as a district of Arkhangel'sk Oblast.
Novaya Zemlya is a border security zone, which means that visits require a special permit from the Federal Security Service.
The Russian word for a lighthouse is mayak (маяк); ostrov is an island, mys is a cape, bukhta or guba is a bay, zaliv is a larger bay or gulf, proliv is a strait, reka is a river, and gavan' is a harbor.
Russian lighthouses are owned by the Russian Navy and maintained by the Navy's Office of Navigation and Oceanography (Управление навигации и океанографии).
Russian light list (RU) numbers are from Russian Navy Publications 2103 (Barents Sea) or 2111 (Kara Sea) as reported by the Admiralty. Admiralty numbers are from volume L of the Admiralty List of Lights & Fog Signals. U.S. NGA numbers are from Publication 115.
General Sources

Photos available from Lightphotos.net.
Photos by various photographers posted by Alexander Trabas.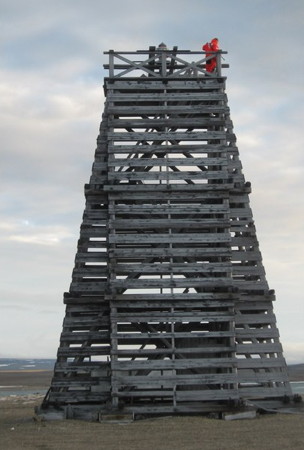 Mys Zhelaniya Light, Ostrov Severny, July 2012
photo copyright Moscow State University
Dept. of Physical Geography and Landscape
reproduction allowed with attribution