The nation of Sweden (Sverige in Swedish) is the largest country of northern Europe, occupying the entire west coast of the Baltic Sea. Along with its lengthy coast Sweden has a distinguished lighthouse history and a good record of preserving its historic lights. The Swedish Lighthouse Society (Svenska Fyrsällskapet) works actively for the preservation of the lighthouses.

Sweden is divided into 21 counties (län) and the counties are subdivided into townships and municipalities (kommuner). Bohuslän is the coastal region (and a former province) at the westernmost edge of Sweden, including the coast between Göteborg and the Norwegian border. Since 1998 the region has been included in the large county of Västra Götaland. Roughly 150 km (90 mi) long, the coastline of Bohuslän faces west on the Skagerrak, a broad strait that separates Norway and Sweden from Denmark. It is a rocky coastline with countless small islands and skerries creating hazardous conditions for sailors. It's not surprising that it requires a great many small lights, most of them located offshore. This page covers the lighthouses of the central part of Bohuslän, including the municipalities of Tjörn, Stenungsund, Orust, and Lysekil, all near the port of Uddevalla.

The Swedish word for a lighthouse is fyr. The front light of a range is the nedrefyr (lower light) and the rear light is the övrefyr (upper light). Ö is an island, holme is an islet, skär is a skerry (a tiny island or rocky reef), sund is a strait (often between an island and the mainland), vik is a bay, hav is a sea, udde is a headland, and hamn is a harbor.

Aids to navigation in Sweden are maintained by the Swedish Maritime Administration (Sjöfartsverket).

I'm indebted to Michel Forand for providing excellent information for this page, including information from one of the books in his collection: Viktoria Ask and Maria Sidén, Fyrguide från Kattholmen till Smygehuk (2000).

ARLHS numbers are from the ARLHS World List of Lights. SV numbers are from the Sjöfarsverket light list as reported by the Swedish Lighthouse Society. Admiralty numbers are from volume C of the Admiralty List of Lights & Fog Signals. U.S. NGA List numbers are from Publication 116.
General Sources

The Society is active in promoting the preservation of Swedish lighthouses.
From the SFA web site, articles and photos on the lighthouses of the Skagerrak.
Photos by various photographers posted by Alexander Trabas.
A large collection of photos and data; text in German; referenced below as LLS.
Photos by various photographers available from Wikimedia.
Photos by various photographers available from Lightphotos.net.
Aerial photos posted by Marinas.com.
Historic postcard views posted by Klaus Huelse.
Navigation chart for Bohuslän.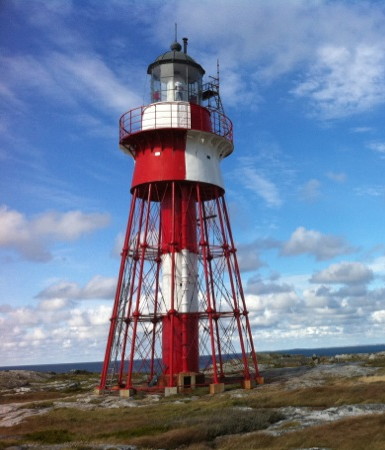 Måseskär Light, Orust, August 2010
Flickr Creative Commons photo by Eric & Pia Sjostedt