SOHP Home > Projects > The Walter Royal Davis Oral History Fund


The Walter Royal Davis Oral History Fund
SOHP Benefactor
Walter Royal Davis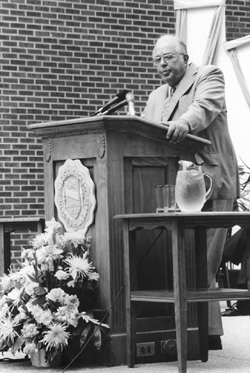 A generous and farsighted gift from Walter Royal Davis in 1994 enabled the Southern Oral History Program to join the Academic Affairs Library in establishing the Davis Oral History Fund at UNC-CH. With its support, the SOHP and the Southern Historical Collection embarked upon the North Carolina Challenge, a series of five projects that united students, professors, and citizens in an investigation of North Carolina history since the Great Depression. A total of 503 interviews were collected, and are archived in the Southern Historical Collection.

A native of Elizabeth City, North Carolina, Walter Davis worked as a clerk and truck driver after high school because he could not afford to attend college. He eventually settled in Texas, where he borrowed $1,000 to buy five trucks that could carry crude oil from wells in the Permian Basin to distant refineries. By 1968, this investment had grown into the Permian Corporation, a multi-million dollar business. Davis has become one of the most prominent philanthropists in North Carolina. Because he did not have the chance to go to college himself, education has been one of Davis' central concerns. His contributions to the SOHP have supported many oral history projects, strengthening the bonds between UNC-CH and North Carolina citizens.

The Davis Fund provided for over 200 interviews conducted by the SOHP's Women's Leadership and Grassroots Activism project to document how, why, and when North Carolina women have acted collectively. Those interviews became the basis for the video documentary Leading Women, which was sponsored in part by the Davis Fund. Interviews generated by the SOHP's North Carolina Business History initiative with support from the Davis Fund contain a wealth of material on North Carolina's industrial history. And, because the state's industrial history cannot be understood separately from its political history, the SOHP used the Davis Fund to sustain the North Carolina Politics Project for which more than 40 of the state's political leaders were interviewed about such topics as the reemergence of the Republican Party, the transformation of Democratic Party politics, and black political participation since the Voting Rights Act. Two final initiatives sponsored by the Davis Fund linked North Carolina politics to grassroots activism and everyday life. The North Carolina Poverty Fund project included interviews with volunteers and community organizers who worked with North Carolina's version of the War on Poverty in the 1960s. The Coastal North Carolina Project examined the impact of World War II mobilization on the eastern portions of the state.

These research projects and scholarly works made possible by the Davis Fund have etched an indelible portrait of recent North Carolina history.