SOHP Home > Projects > Davis Oral History Fund > NC Politics Project


The North Carolina Politics Project
A Sanford Campaign Poster in 1964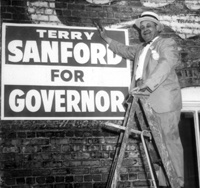 In 1995-1996, with the generous support of the Walter Royal Davis Oral History Fund, the Southern Oral History Program completed "The North Carolina Politics Project," a major new oral history series examining state politics since the mid-1960s. The series was directed by Dr. William Link, author of three major books on southern history and chair of the Department of History at UNC-Greensboro, along with Dr. Steven Lawson, an historian noted as a leading authority on black voting rights and black politics. Joseph Mosnier, associate director of the SOHP, conducted thirty interviews for the series.

The series examined four key themes: (a) the evolution of African American political activity in North Carolina since the passage of the Voting Rights Act of 1965; (b) the Republican Party's resurgence and related partisan realignment of recent decades; (c) the evolution of women's political activity in North Carolina since the 1960s; and (d) the prominence of volatile cultural and social politics in the state's political contests and debates in the same time period.



Annie Brown Kennedy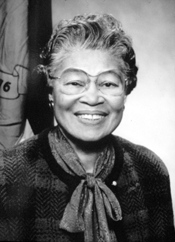 Series interviewees include former Republican governors James E. Holshouser and James G. Martin; Eva M. Clayton and Melvin Watt, Democratic U.S. Representatives; Daniel Blue, the first African-American speaker of the N.C. House; Ms. Annie Brown Kennedy, Esq., the first African-American woman member of the North Carolina General Assembly; Republican state senator Betsy Cochrane, minority leader of the N.C. Senate in 1995-96; Jack Hawke, Coy C. Privette, and Carter Wrenn, powerful figures in the N.C. GOP; and Herbert Hyde and Howard N. Lee, both longtime Democratic state senators.

In February 1997, the SOHP sponsored a well-attended public panel discussion and reception, "Preserving Our Political Past," to celebrate the project's completion.

The North Carolina Politics Project spawned a related, follow-on project, the "North Carolina Republican Party" oral history series, which focused specifically on the history of the state GOP in this century. This second series, which was the subject of an extensive feature story, "What Led to the Republican Resurgence?" in the July 6, 1997, edition of the Raleigh News & Observer, includes eighteen sessions with leading Republicans.

Interviews from both the North Carolina Politics Project and the North Carolina Republican Party series (together with a small group of additional interviews completed earlier by Dr. Jonathan Houghton as part of his dissertation research on the history of the Republican Party in North Carolina, and by Howard Covington and Marion Ellis) are listed in combined form as Series A-3, "North Carolina Politics, 1994-" in the Southern Historical Collection's full online listing of the entire SOHP interview collection.

Want to hear more?