SOHP Home > Projects > The North Carolina Republican Party


The North Carolina Republican Party
U.S. Senator Jesse Helms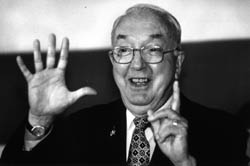 Launched by the SOHP in 1996-97 as a follow-on series to our "North Carolina Politics Project," the "North Carolina Republican Party" series extended our investigation of state political history in the twentieth century. Directed by Dr. William Link, author of three major books on southern history and chair of the Department of History at UNC-Greensboro, and executed by SOHP associate director Joseph Mosnier, the series closely examined the history, affairs, and shifting fortunes of the North Carolina Republican Party and, more generally, Republican politics in the state from the 1940s and 1950s through the present day. In particular, we sought to explain the Party's tremendous growth and success by the early 1990s in state politics, a development that mirrored wider trends in the region and nation across recent decades. Jointly funded by the Southern Historical Collection and UNC-Greensboro, the series included eighteen interviews with GOP elected officials, state party leaders, strategists, and supporters.

Interviewees included former state Republican Party chairs Jack Hawke, Jack Lee, Bob Bradshaw, and Frank Rouse; Congressional Club officer Carter Wrenn, a key strategist for Sen. Jesse Helms; Gene Anderson, political advisor to former Gov. James Holshouser; Judge James Baley Jr., a Republican state legislator in the 1930s and state party chair in the 1950s; former U.S. Senator James T. Broyhill; Rep. Howard Coble; Sim DeLapp Jr., son of former state chair Sim DeLapp and chair of the state Christian Coalition; and others. Twelve additional interviews with key Republicans were included in the "North Carolina Politics Project," as well.

The "North Carolina Republican Party" series was the subject of a lengthy feature story, "What Led to the Republican Resurgence?" in the July 6, 1997, Raleigh News & Observer.

Interviews from both the "North Carolina Republican Party" series and the earlier "North Carolina Politics Project" (together with a small group of additional interviews completed earlier by Dr. Jonathan Houghton as part of his dissertation research on the history of the Republican Party in North Carolina, and by Howard Covington and Marion Ellis) are listed in combined form as Series A-3, "North Carolina Politics, 1994-" in the Southern Historical Collection's full online listing of the entire SOHP interview collection.