SOHP Home > Projects > The Hickory Springs Manufacturing Company Project


The Hickory Springs Manufacturing Company Project
The Hickory Springs
Manufacturing Company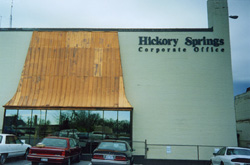 In 1997, executives of the family-owned, North Carolina-based Hickory Springs Manufacturing Company conceived the idea of conducting an oral history project to document and preserve the firm's history. Three of the company's leaders - Bobby Bush, Jr., Vice-President of the Foam Products Division; Rob Simmons, Director of the International Department; and Jack Finegan, Corporate Director of Communications - began working with the Southern Oral History Program, which supervised independent researcher Anne Radford Phillips as she conducted 55 interviews with 49 individuals selected by Hickory Springs. Industry growth, employee-relations, and customer service were just a few of the topics covered in the oral histories.

Founded in 1944 in Hickory, North Carolina, the company started small but today boasts 60 operating facilities across the country; in addition to its traditional markets, Hickory Springs now serves a growing range of other industries, from floor covering and construction to automotive and telecommunications. According to Bob Bush, Sr., the company's growth has been due, in part, to the hard work and innovative spirit of its founder, Parks Underdown. "Here's what happened," Bush explains. "During the Second World War, supplies and everything were very hard to get. Now Parks had a knack of being able to get things because of this personality of his. He could talk with people, and Charlie Jones would say, 'You know, I've got a hundred and twenty-eight thousand pounds of barbed wire sitting over here. Don't have a thing in the world to do with it.' And Parks would let that barbed wire stay in the back of that head. Maybe four years later, he'd say, 'Hmm.… a hundred twenty-eight thousand pounds of barbed wire. You know, if we took the barbs off of that...' [Laughter.] That's the kind of thinking Parks would do."

Even as the company grew, Hickory Springs' management was distinguished by its strong respect for the company's workers - a commitment exemplified by Bob Simmons' recollections about longtime employee Howard Parker: "[Howard] worked in the mattress department as a lead man and fixer, and he was just a sort of mechanical genius and had a great idea of how to fix machinery… There was no engineering discipline in there, and he had a lot of trouble transferring his capability for doing things to people who worked for him… But in the early days, when we were having [management consultant] Dr. Heaton, Howard was a supervisor in the mattress department. He is one of the ones who took to heart what Dr. Heaton was saying… He listened, he paid attention, and when it came to valuing human beings, his employees, or making them feel valued, he learned that and he did it very well. He walked through his plants regularly, he talked to people, he patted them on the back."

The full collection of Hickory Springs interviews is available in UNC-CH's Southern Historical Collection. Access to the collection requires written permission from Hickory Springs.