Two years later, the toy dinosaur's still there
Looks like the Flintstones-style dinosaur (Dino?) is still on White Island's crater webcam two years and (nearly) five months later. When its existence was first reported, GNS said that they hoped Dino sticks around for a while, but we doubt he will have the staying power of his ancestors. The acid environment on White Island gives plastic a fairly hard time.
Uh, well, as of today, it's still there on the White Island crater webcam. Courtesy of HTTrack and hydro.electric.gen.nz, some captures from the webcam for posterity: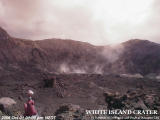 This compared with earlier. To me it probably means not a lot, and not a lot's changed, but I'm guessing to a geologist, a lot has. Except the dinosaur hasn't received an acidic demise yet, assuming she or he ever will any time soon...