Black Mountain College was established in 1933 as an independent, coeducational, four-year college and originally was located in buildings leased from the Blue Ridge Assembly, near Black Mountain, N.C. In 1941 the college was moved nearby to property purchased by the college, and it remained at this location until it closed in 1956.
Black Mountain College was created as an experiment of "education in a democracy," with the idea that the creative arts and practical responsibilities are equal in importance to the development of the intellect. The emphasis was that learning and living are intimately connected. Dramatics, music, and the fine arts were regarded as an integral part of the life of the college. No student held a job through college but everyone, faculty and students alike, participated in work on the farm operated by the college, constructed buildings, did maintenance work, served meals, etc. Many classes were held at night and none were scheduled in the afternoons in order to allow time for work on the campus. There was no organized athletic program as it was thought there should be no sharp distinction between work and play.
The faculty constituted the corporation and elected from its members the Board of Fellows, the governing body of the college which made appointments to the faculty and controlled fiscal affairs. The Rector, who was the titular head of the college, was elected by the faculty from those chosen to the Board which in turn selected the Secretary of the Corporation and the Treasurer from its membership. The chief student body officer was also a member of the Board of Fellows. Educational policy and student discipline were the responsibility of the faculty as a whole, with student officers participating in the discussion and handling of disciplinary problems. An Advisory Council composed of friends of the college elected by the Board of Fellows served in an advisory capacity only and had no direct control over college affairs.
The curriculum was divided into the Junior and Senior Divisions with all entering students being placed in the lower division regardless of previous education. Entrance into the Senior Division was not dependent on the number of courses completed successfully but rather was determined by the results of comprehensive oral and written examinations as well as the achievement record of the student. Graduation from the college was on the same basis, with professors from other institutions conducting the examinations. There were no required courses but each student prepared with his advisor a plan of work and was expected to complete a well-rounded course of study. Classes, which were a combination of recitations, lectures, tutorials, and seminars, met at the discretion of the teacher and attendance was voluntary.
-Information Courtesy of North Carolina State Archives Black Mountain College Papers
WHY REMEMBER BLACK MOUNTAIN COLLEGE?
• Teachers and students included:

   John Rice, 
   Founder & Classics Scholar
   Josef Albers, Painter
   Charles Olson, Writer
   John Cage, Composer
   Buckminster Fuller, Architect
   Merce Cunningham, 
   Dancer & Choreographer
   Robert Creeley, Poet
   Jacob Lawrence, Painter
   Willem de Kooning, Painter
   Franz Kline, Painter
   Robert Rauschenberg, Painter
   M.C. Richards, Potter & Poet 
• Black Mountain College was the first American experimental college boasting complete democratic self-rule, extensive work in the creative arts, and interdisciplinary academic study
• First geodesic dome built by Buckminster Fuller in 1948
• First multimedia happening occurred at Black Mountain College in 1952, staged by John Cage
• The Black Mountain Review, from 1954-1957, published influential authors including Beat Writer Allen Ginsberg



JOSEF ALBERS TEACHING STUDENTS
Courtesy of North Carolina State Archives



PRINTINGEXHIBIT
Courtesy of North Carolina State Archives



WEAVING STUDENTS
Courtesy of North Carolina State Archives


WOOD SCULPTURE BY PHILLIP DARLING
Courtesy of the North Carolina State Archive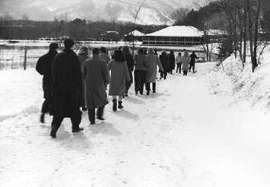 STUDENTS WALKING IN THE SNOW
Courtesy of the North Carolina State Archive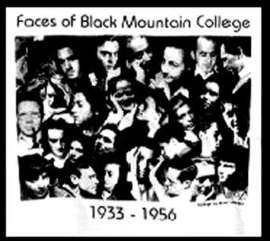 "What does not change is the will to change."
Charles Olson, "The Kingfishers," 1949