Tucked in the mountains of Western North Carolina, Black Mountain College (1933-1957) has emerged as one of the most influencial experiments in education. Though short lived, Black Mountain College's unique model inspired and shaped the 20th century American modern art.

Fully Awake: Black Mountain College is a documentary film exploring "education in a democracy," and highlights the College's belief that the creative arts and practical responsibilities are equally important to intellectual development. Life skills are developed through democratic governance, art exploration, manual labor, and community living.

Fully Awake reflects on the unique educational style and long-term significance of the school using archive photography, interviews with students, teachers, historians, and current artists, and narration. While popularly known as the location for such events as Buckminster Fuller's geodesic dome, John Cage's first 'happening' and the publishing of the Black Mountain Review, the film focuses on the unique educational approach of Black Mountain College to balance academics, art, manual labor and communal living to educate the whole person--head, hand, and heart.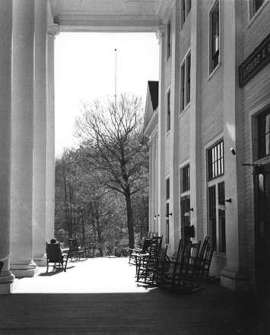 LEE HALL, BLACK MOUNTAIN COLLEGE
Photo Courtesy of North Carolina State Archives