Editor's note: In this series, The Citizen examined issues related to environmental justice and to the fight of the Rogers and Eubanks roads community to be relieved of what they allege to be an undue burden — 35 years of a landfill and now the threat of a waste transfer station.
Quick Navigation:
Photos: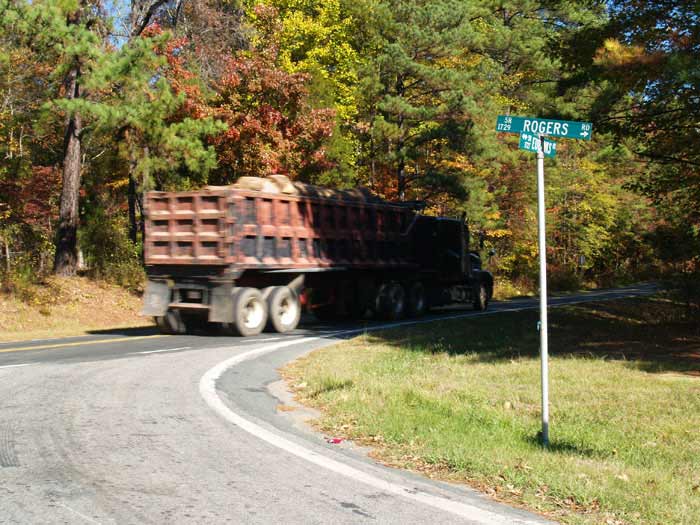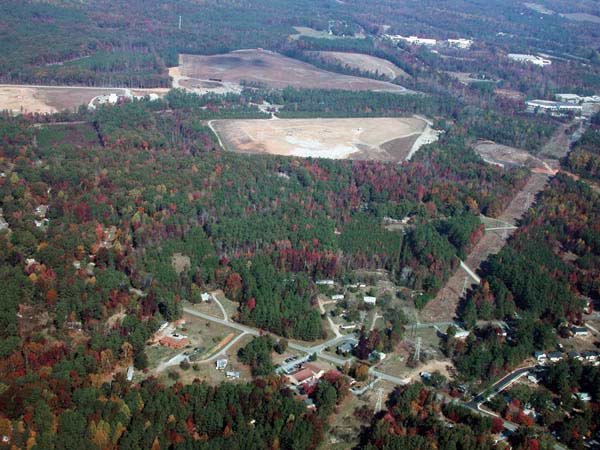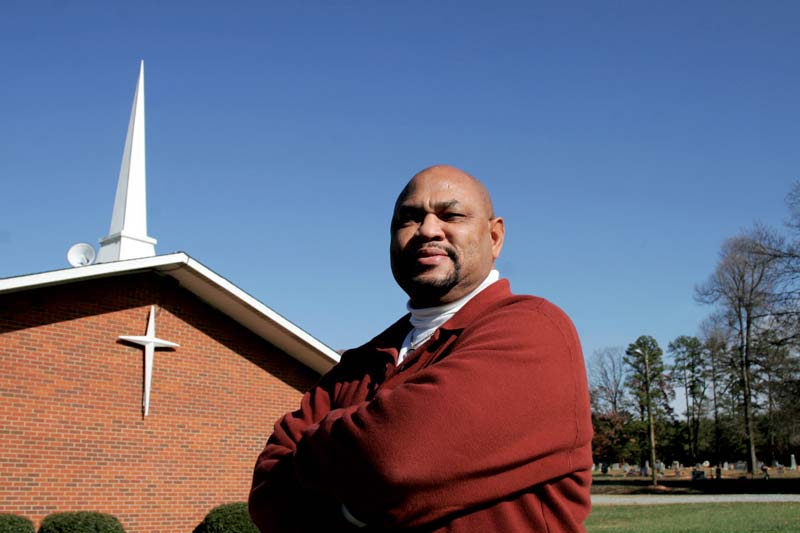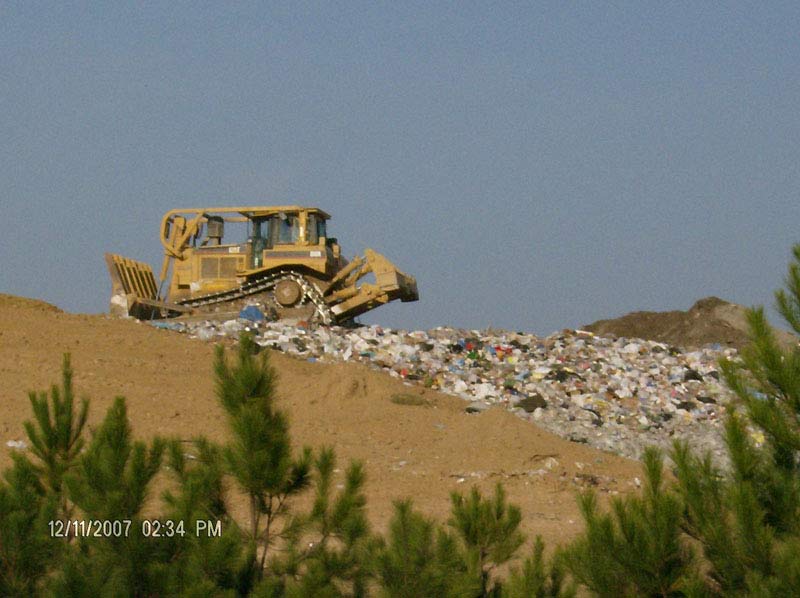 News Story 3/29/07: Commissioners approve transfer station for solid waste at Eubanks Road site
The Orange County Board of Commissioners voted unanimously on Tuesday to develop a solid waste transfer station at the Eubanks Road landfill.
The board considered three transfer station sites, including two sites off U.S. 70 in the Eno Economic Development District and the Eubanks Road landfill. The landfill will reach capacity in 2010, and the county plans to build the transfer station in order to transfer its solid waste out of the county.
The board had previously postponed a vote on the location of the transfer station, requesting more information from county staff regarding potential transfer station sites as well as the criteria in determining such sites.
Residents of neighborhoods surrounding each of the sites have been critical of the county's search process and the lack of formal criteria in determining potential transfer station sites.
Commissioners agreed that the county should have sited a transfer station before the landfill was so close to capacity.
Part One: The grassroots of environmental justice
Obviously, environmental injustice wasn't born 25 years ago, nor was the impulse to address it. The roots of a struggle to improve peoples' exposure to the byproducts of an industrial society are intertwined with those of the civil rights and social-justice movements. Environmental justice scholars point out that when Rev. Martin Luther King Jr. traveled to Memphis on April 3, 1968, the day before he was assassinated, it was to advocate for black sanitation workers, demanding, among other things, better protection for those workers from the conditions to which they were subjected.
But the coining of the term "environmental racism" and the articulation of the environmental justice movement are traced back here to North Carolina, to Warren County, 1982, and to the struggle of a largely black community to keep a toxic waste dump out of its front yard.
Part Two: Patterns emerge on race and environment
In 1992, a landmark study published in the National Law Journal titled "Unequal Protection: The Racial Divide in Environmental Law" revealed significant disparities in the way the federal Environmental Protection Agency enforced environmental laws. The report read: "There is a racial divide in the way the U.S. government cleans up toxic waste sites and punishes polluters. White communities see faster action, better results, and stiffer penalties than communities where blacks, Hispanics and other minorities live."
The EPA's definition of environmental justice goes on to affirm that environmental justice "will be achieved when everyone enjoys the same degree of protection from environmental and health hazards and equal access to the decision-making process to have a healthy environment in which to live, learn, and work."
And yet, a dozen years after the "Unequal Protection" study, ten years after the signing of Executive Order 12898, the inspector general of the EPA acknowledged that his agency was doing a poor job of achieving the stated goals of federal action against environmental injustice.
11/21/2007: County seeks new transfer site
Earlier this month, the board reopened the search for a waste transfer station site, citing social justice reasons and outcry from the community. Commissioners had voted in March to locate the transfer station on Eubanks Road, near the site of the county's 35-year-old landfill, which is expected to reach capacity in 2011.
Part Three: For landfill's neighbors, 35 years is enough

Where opinions begin to dramatically differ is in the decisions that have been made in the 35 years since the landfill opened. The landfill area on Eubanks was to have been sealed up in 10 years (and covered by a park), then 20, and so on.
Then, last March — just when it seemed the end was finally near, with the landfill due to reach capacity in 2011 — a decision was made by the Orange County Board of Commissioners to place a solid-waste transfer station on the same county-owned property.
"Enough is quite a bit more than enough" was essentially the message conveyed to the board by the Rogers Road community and its supporters. That Eubanks would even be considered as a location for the station was, said the community's spokespersons – in a now strong, clear and unified voice — an outrage. Justice deferred is justice denied, they said, and this community had long felt denied.
On Nov. 5, the commissioners elected to reopen the transfer station search process, though they haven't yet ruled Eubanks Road out as a potential site.
Part Four: Transfer station questions linger
Did Mike Nelson feel rotten when he voted in favor of placing a solid-waste transfer station on Eubanks Road?
"Oh, god, yes," says Nelson, a member of the Orange County Board of Commissioners.
"I think it was difficult for almost everyone involved," he says of the unanimous decision made by the board last March, a decision that has since been overturned after the community, led by the Rogers-Eubanks Coalition to End Environmental Racism, intensified its efforts at bringing attention to what they believe to be an environmental injustice. After 35 years of having lived with the Orange County Landfill and all its attendant consequences, the Rogers-Eubanks community was unwilling to quietly accept this additional burden.
Part Five: Community members question ethics of exporting garbage
Community members have asked: "Is it right to demand that a neighborhood that has borne the unpleasant consequences of our county's landfill for over 35 years now be the location of yet another solid-waste facility?"
Many have responded, "No."
But another question lies within this discussion of whether it would be an environmental injustice to further burden a neighborhood that most now acknowledge has shouldered at the very least its share – another question of environmental justice: "Should a solid-waste transfer station be placed anywhere in Orange County?"
Part Six: Persistence brings results for a proud and historic community
"A visceral response," is how Omega Wilson describes it, a sensation "that makes you so angry you can't think. That's what people call rage. When you get so mad you can't count to two."
This, he says, is how his West End Mebane community, approximately 90 percent of which is African-American, felt when they learned a highway bypass was going to be laid smack through the neighborhood, displacing families, razing a 130-year-old church and destroying the cemetery in which generations of community ancestors, including Wilson's own, are buried.
How could the community not have been previously made aware? How could it be that this plan had apparently been in development for years (according to Wilson, for well over 10 years) without the community being informed, so that its members could speak out against it in public hearings?
Part Seven: Who will tell the people?
After 35 years of carrying what it's felt to be a solid-waste overburden for the good of our community at large, the Rogers-Eubanks community has successfully lobbied the Orange County Board of Commissioners to reconsider their decision to site a waste transfer station on Eubanks Road at the location of the current landfill. A search is now underway to determine the best site for a transfer station. Eubanks Road is not off the table as a potential location.
Beyond that particular order of business, though, is the question of whether the county should have a transfer station at all: Should we be shipping our garbage out of county for someone else to deal with?
Part Eight: Garbage is a communal responsibility
"I believe the closer garbage is disposed of to where it's produced, the more responsible you are for it," says Carrboro Board of Alderman Jacquie Gist. "'Out of sight, out of mind' is not a good thing."
Out of sight is where our garbage would go if the Orange County Board of Commissioners proceeds with its decision to place a solid-waste transfer station in the county. The commission has contracted with a private firm to conduct a search for a transfer station site, from which our waste would be sent out of county – destination as yet unknown.
As Orange County solid waste management director Gayle Wilson told The Citizen in an earlier installment of this series, given that a previous board of commissioners adopted a resolution stating that there would not be another municipal waste facility located in Orange County, "We have not discussed, nor to my knowledge do we intend to, the location of a new municipal solid-waste landfill in the county."
News Story 1/24/08: County board reviews transfer site complaint
Orange County and the Board of County Commissioners are reviewing an administrative complaint against the county and others filed with the Environmental Protection Agency last summer.
According to a letter from the EPA to the county dated January 8, the agency received an administrative complaint in October "alleging that the Orange County, North Carolina Board of County Commissioners has violated Title VI of the Civil Rights Act of 1964 … and EPA's nondiscrimination regulations."
The complaint, filed by Rev. Robert Campbell on behalf of members of the Rogers Road community, states that the agencies and municipalities listed in the complaint "have a record of historical and ongoing discrimination" against the Rogers Road community.
News Story 2/21/08: Transfer station siting criteria examined
The Board of County Commissioners reviewed site selection criteria for a solid-waste transfer station this week, settling on a process that starts by eliminating environmentally sensitive areas and that looks for sites close to major roads and heavy trash generation.
At a Tuesday night work session, the commissioners heard from Ed Shuffler of Olver Inc. regarding progress made in establishing a search process for the siting of the transfer site in Orange County. Olver is the consulting firm hired by the county to establish criteria, conduct the search and advise the commissioners on the selection of a site.