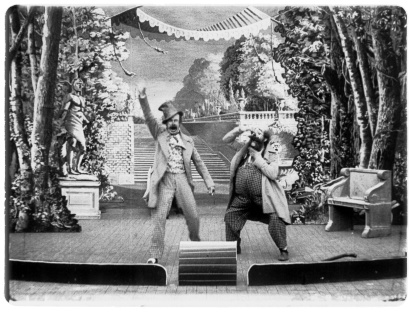 Frame 00300 from TOM TIGHT ET DUM DUM produced by Georges Méliès in 1903
CinePaint Digital Film Library
The CinePaint Digital Film Library is the world's first online archive of cinema-grade moving imagery. It contains 2k resolution film scans in Kodak Cineon format, a standard motion picture studio file format for digital intermediates.
Digital film frames are scanned as individual files and numbered in sequence. At standard 2k digital film resolution, each frame weighs about 12mb! View using CinePaint or other motion picture tools. Footage is provided to enable researchers developing digital motion picture restoration tools and as a public service.
* News
October 23, 2003 The first film in the collection are sequences from the movie, TOM TIGHT ET DUM DUM, produced by Georges Méliès in 1903. Footage courtesy of George Eastman House. Méliès was a early pioneer in motion pictures, credited with inventing the genre of science fiction with his famous film, A TRIP TO THE MOON, in 1902.
* Get Involved!
Join our discussion list. We have an open discussion list. Anyone may refer to the list archives which are searchable.
If your email isn't confidential or administrative trivia please send your questions and comments to our public discussion list. Please send kudos and bug reports to the list.
Robin Rowe
Founding Director
CinePaint Digital Film Library
---
Questions to rower@movieeditor.com
Created October 31, 2003. Updated October 31, 2003.