Sustainable Farming Connection
Where farmers find and share information.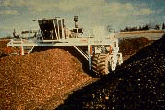 From basic biology to time-saving forms that help you get the right mix, this site is a winner.

Hot Link: Cornell Composting

Whether you're a master composter or just thinking about composting as a manure- management option for your farm, this site has something to offer you.

While some of the material on the basic biology, chemistry and physics of composting is targeted at students, you'll come away with a deeper understanding of the composting process and the myriad of variables that affect your compost management -- and the quality of your final product. It's worth a stop just to view the excellent images of critters from microbes to millipedes that do the bulk of the work for you, if you manage your windrows right.

Some of the most helpful features of the site include easy-to-use forms to calculate for up to three compost-pile ingredients the: For more complex calculations, you can download Excel and Lotus spreadsheets that allow you to develop ideal compost mixtures with up to four ingredients.

Other site features include: .


For more composting information, see our Compost and Manure Links.
---
©1997 Committee for Sustainable Farm Publishing

Please read about our usage permission policy and disclaimer.

Send comments, suggestions and questions to the site author:
Craig Cramer cdcramer@clarityconnect.com

Coded using HoTMetaL Pro 3.0. Best viewed in Netscape 3.0 or later.
Please see our credits page for more information.

http://sunsite.unc.edu/farming-connection/compmanu/hotlinks/corncomp.htm