Sustainable Farming Connection
Where farmers find and share information.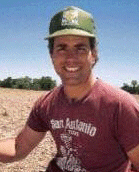 Steve Groff
Steve Groff's
Journal

Follow the management strategies of this 'New Generation Cropping Systems' pioneer.

Testing Row Covers (4/22/97) -- Can they speed tomatoes to early-market premiums with no-till and covers?


Coulters and Closing Wheels for No-Till Corn (4/26/97) -- Which work best? That depends on the conditions.




---
©1998 Committee for Sustainable Farm Publishing

Please read about our usage permission policy and disclaimer.

Send comments, suggestions and questions to the site author:
Craig Cramer cdcramer@clarityconnect.com

Coded using HoTMetaL Pro 3.0. Best viewed in Netscape 3.0 or later.
Please see our credits page for more information.

http://sunsite.unc.edu/farming-connection/covercro/groff/jourhome.htm