Sustainable Farming Connection
Where farmers find and share information.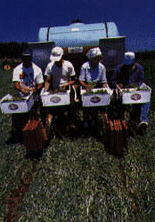 Groff's transplanter cuts through rank residue. [Photo courtesy Pennsylvania Farmer.]
No-Till Transplanting
Into Cover Crops

'New Generation' cropping systems
help this producer build healthy soil,
smother weeds and beat pests.

Video of Groff killing cover and transplanting.

South-central Pennsylvania vegetable grower Steve Groff is pioneering what he calls "New Generation Cropping Systems," which emphasize no-till transplanting vegetables with a customized Holland transplanter into cover crops killed with a Buffalo rolling stalk chopper. With his father, Groff grows corn, alfalfa, tomatoes, pumpkins, soybeans, small grains and a few other vegetables on 175 acres of hilly land in southern Lancaster County.


Conservation has always been a concern of theirs. The farm's slopes have been contoured for more than 40 years, and Steve started no-tilling in the early '80s. "We had some erosion problems and I didn't like having to fill in gullies before harvesting corn," says Steve, a board member of the Pennsylvania Association for Sustainable Agriculture.

The Groffs have held field days at Cedar Meadow Farm every July since 1994. The crowds ask plenty of questions. But with cooperating researchers Aref Abdul-Baki and Dr. Ron Morse also attending, "it's been hard to stump us," says Groff. "I want to showcase what we're doing: Soil conservation, pesticide reduction and improved water quality -- we have some hard results that you can't argue against.

"The demonstrations have proved to me that no-till transplanting truly has a place in vegetable production. I'm not doing any economic comparisons anymore: I'm committed to it. It's proved itself here and is proving itself to others who visit."

-- Christopher Shirley

Material adapted from a booklet (in progress 4/19/96) highlighting on-farm research sponsored by the Pennsylvania Association for Sustainable Agriculture and RISA (Regional Infrastructure for Sustainable Agriculture). For more information, email PASA executive director Tim Bowser at tbowser@a1.psupen.psu.edu.




---
©1998 Committee for Sustainable Farm Publishing

Please read about our usage permission policy and disclaimer.

Send comments, suggestions and questions to the site author:
Craig Cramer cdcramer@clarityconnect.com

Coded using HoTMetaL Pro 3.0. Best viewed in Netscape 3.0 or later.
Please see our credits page for more information.

http://sunsite.unc.edu/farming-connection/covercro/groff/groffhom.htm