Sustainable Farming Connection
Where farmers find and share information.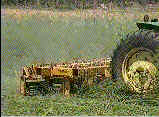 Stalk chopper killing cover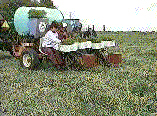 No-till transplanter
Transplanter and
Stalk-Chopper Video
See these tools in action.

.avi file (1,852 KB)

.mov file (1,808 KB)

The only difference between the two files is their format. Each 22-second clip shows Groff's no-till vegetable transplanter planting tomatoes into a 5-foot-tall cover crop mix of rye, vetch and crimson clover on May 20, 1997. Then the clip shows Groff rolling the cover crop mix just prior to transplanting.

For more information about and pictures of these tools, see Transplanter and Stalk-Chopper Modifications. For an overview of Groff's cover cropping system, start with No-Till Transplanting Into Cover Crops.

These clips are kindly provided by Steve Groff, and are from his video, No-Till Vegetables - A Sustainable Way to Increase Profits, Save Soil and Reduce Pesticides. Ordering information and other information is available at Groff's Cedar Meadow Farm website.

If you have any trouble downloading and viewing either of these clips, please email me at: cdcramer@clarityconnect.com.





---
©1998 Committee for Sustainable Farm Publishing

Please read about our usage permission policy and disclaimer.

Send comments, suggestions and questions to the site author:
Craig Cramer cdcramer@clarityconnect.com

Coded using HoTMetaL Pro 3.0. Best viewed in Netscape 3.0 or later.
Please see our credits page for more information.

http://sunsite.unc.edu/farming-connection/covercro/groff/video.htm