Sustainable Farming Connection
Where farmers find and share information.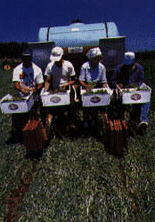 A 20-inch coulter and
subsurface tiller open
slots for transplants.
[Photo courtesy
Pennsylvania Farmer.]
Transplanter and Stalk-Chopper Modifications
Customized tools handle heavy cover crop residue.

Video of Groff killing cover and transplanting.

When Groff learned about a modified Holland transplanter that could be used for no-tilling vegetable seedlings into killed cover crops, he was eager to try it in 1995. Customized by Dr. Ron Morse of Virginia Polytechnic Institute, the customized unit has a spring-loaded, 20-inch, straight-bladed coulter. A subsurface tiller follows the coulter and gently opens a slot for placing the transplant. The package leaves virtually no soil showing after transplanting, giving an effective, full-coverage mulch for mid- to late-season tomatoes.

Groff used to flail mow covers to kill them prior to transplanting. "But mowing is slow and takes a lot of power. That's a real problem if you're growing commercial acreages," he observes. "I wanted to control covers mechanically and in a way that flattens them near the soil to help their decomposition."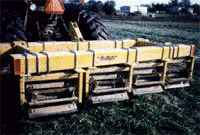 Groff's Buffalo Rolling Stalk
Chopper kills covers quickly
and economically.

In '96, he found the ideal tool to do just that: a 10-foot Buffalo Rolling Stalk Chopper from Fleischer Manufacturing. "It's designed to flatten and chop cornstalks, on a scale between a flail mower and a disk," says Groff.

The chopper has two rows of rollers, four in front and four in back, with eight 23-inch blades per roller. The rollers can be angled for more aggressive action and offset to provide continuous coverage. "The turning rollers crimp up the cover and push it right down. You can run it at eight miles per hour, so it's fast and economical," he notes.

Affordable too: It cost Groff just $4,300. (Different sizes also are available, he says.) He used the versatile machine on 100 acres in '96. "I did 35 acres of covers with it, with good control of hairy vetch and rye aside from some vetch that hadn't bloomed yet and gave some regrowth. Then after the pumpkin harvest, I chopped and dispersed the remaining pumpkins. Plus I used it in the cornfields in fall after spreading rye seed. Now my neighbors are borrowing it."

Groff improved the chopper's design in early '97. "I added independent parallel linkages to each roller, with springs to add some flex to it. It helps the crimping action on little rises or valleys, or if you hit a stone." He tested it on


Coarse residue left by the stalk chopper decomposes slowly.

40 acres of cornstalks that spring and says, "It's ready to conquer the cover crops." Another benefit of the stalk chopper is that it doesn't cut up the cover as finely as the flail mower. This slows the decomposition of the vetch, extending its weed suppression and delaying its nitrogen release.

Groff is experimenting in other ways with the no-till system, such as adding a drip line during the transplanting pass. "You don't want drip tape blowing away. But tucking a drip line under mulch can be a feat in itself," says Groff. "You can cut the mulch with a coulter, but you don't want to bury the line too deep."

With Morse's help, Groff rigged a workable system for laying drip lines cheaply, but says it needs finetuning before it would be commercially acceptable. He also would like to redesign the opening and closing wheel angles of the no-till transplanter. Groff thinks the planting mechanism should be redesigned so it's geared for no-till rather than merely adapted for no-till. Rather than tinker with the existing equipment, however, he concluded that his time would be better spent working on a new design.

Look for equipment tinkering updates in Steve Groff's 1997 Journal.





---
©1998 Committee for Sustainable Farm Publishing

Please read about our usage permission policy and disclaimer.

Send comments, suggestions and questions to the site author:
Craig Cramer cdcramer@clarityconnect.com

Coded using HoTMetaL Pro 3.0. Best viewed in Netscape 3.0 or later.
Please see our credits page for more information.

http://sunsite.unc.edu/farming-connection/covercro/groff/equiip.htm