Sustainable Farming Connection
Where farmers find and share information.
Low-Stress Livestock Handling

Herding methods and facilities that put less stress on you and your stock.


Diagram ©Temple Grandin
It's no secret that stress reduces disease resistance and increases health care costs -- whether you're talking about livestock or people. These sites and other resources will help you increase your stock's productivity and profits by showing you ways to reduce stress in the way you handle and herd animals and how you design and build your livestock facilities.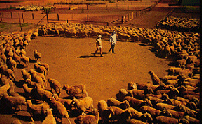 Grandin's site features excellent photos and diagrams illustrating principles of livestock handling, such as the flight zone (above),
as well as blueprints of
low-stress facilities.
Photo ©Temple Grandin

Dr. Temple Grandin's Web Page

If you raise any kind of livestock -- cattle, hogs, sheep, horses, buffalo or even wilder animals -- this is one of the most valuable Internet resources you'll find.

Temple Grandin is perhaps the world's foremost authority on livestock facilities and handling methods designed to reduce animal stress. (Nearly half of the cattle in North American pass through systems that she designed.)

This comprehensive site will help farmers and ranchers better understand livestock behavior and apply that knowledge to herding, working and facilities-design. Some features include:
Understanding Flight Zone and Point of Balance. Whether you're rounding up stock on the range, moving dairy cows through lanes in intensively managed pastures, or loading hogs onto a truck, these basic concepts will help make the job go smoothly. Grandin uses excellent diagrams and photos to illustrate these basic principles.


Sample design
for a hog chute
©Temple Grandin

Be sure to explore all the links from the Recommended Basic Livestock Handling menu. You'll find out why a misplaced coffeecup can make animals balk, and how to move stock easily with a stick and a plastic ribbon instead of a prod.
Sample Designs features plans for chutes, corrals, sorting pens, feedlots and more that are designed to prevent injuries to stock and workers, and rely on the animals' instincts to get them to do what you want them to do.
Don't skip the Animal Welfare menu, which points out the Economic Advantages of Good Animal Welfare.
The diagrams and photos make the pages exceedingly user friendly. (Graphic-heavy pages are sometimes slow to load, but they are worth the wait. Open a second browser and load the next page you want to explore while you're studying another one.) If you want even more depth or are interested in the solid research behind Grandin's designs, the site includes many online references.

Ordering information for Grandin's books are also available, including her widely acclaimed Thinking In Pictures, which describes her experiences with autism and reviews the latest research.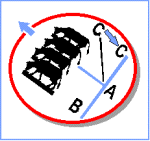 Low Stress Livestock Handling

This section of the University of California's Sustainable Ranching Research and Education Project site provides a good introduction to Bud William's stockmanship techniques. The introductory pages give you a taste of Bud's methods, which start with a change in attitude from "I'm going to make that animal do what I want," to "I'm going to let that animal do what I want." These pages also provide some good anecdotes and make a strong connection between stress, productivity and your bottomline.

If you don't need convincing, skip right to Belief & The Will To Do It, Version 2.0. Here you'll finding a nicely illustrated primer diagramming William's basics of how to use the animals' pressure zones to get them to start, stop, and essentially go where you want them to go.

If that whets your appetite for more detailed info, Williams offers a five-hour video of his presentation at the Strockman Grass Farmer Conference held in 1990. (Cost: $100.) He also puts on livestock handling schools. For more information contact Bud at EuWillia@bordercity.com or write: Williams Stockmanship School, P.O. Box 2220, Lloydminster, Alberta, Canada T9V 1R6. (403) 875-9256.


---
©1997 Committee for Sustainable Farm Publishing

Please read about our usage permission policy and disclaimer.

Send comments, suggestions and questions to the site author:
Craig Cramer cdcramer@clarityconnect.com

Coded using HoTMetaL Pro 3.0. Best viewed in Netscape 3.0 or later.
Please see our credits page for more information.

http://sunsite.unc.edu/farming-connection/grazing/features/lowstress.htm