.
Mobile Calf-Grazing Module
Helps calves reap pasture benefits at an early age.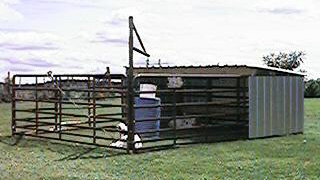 Mobile calf-grazing module on
Lewis Stuttle's dairy, Dryden, N.Y.

When Marathon, N.Y. grazier Dick Warner, began experimenting with prototypes of this "mobile grazing module," he envisioned it as a tool for starting calves on pasture at an early age for pastured veal production. But it can also be used on conventional dairies, he says. Like a conventional hutch, the module keeps calves confined in a controlled area. But by moving the unit with a small truck, tractor or four-wheeler, the calves get access to fresh pasture on a regular basis.

This reduces calf heath problems, says Warner. It also minimizes grain feeding, eliminates hay feeding and manure handling, and gets the calves used to grazing at an early age.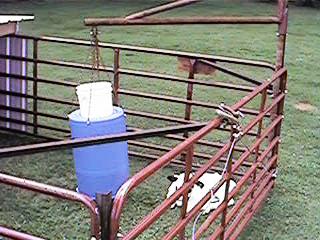 Boom-mounted milk feeder can be
filled from outside the pen.

Construction is relatively simple. The three panels are bolted together and reinforced with angle-iron braces. The shelter is simple frame construction with metal roofing (at a slight pitch) and walls. The unit is mounted on wooden skids and equpped with a cable for quick hitching. The unit can be fitted with a mob milk feeder. Warner suggests mounting it on an arm that can be swung to the side for easy filling from outside the unit. Other options include a waterer that can be connected to your pasture watering system and a grain manger.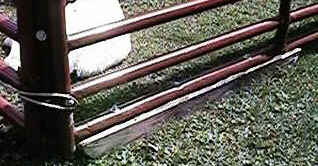 Wooden skids make the unit easy to move.

For more information, contact:

Dick Warner
3012 Cincinnatus Rd.
Cincinnatus, NY 13040

Phone: 607-863-4580








---
©1999 Committee for Sustainable Farm Publishing

Please read about our usage permission policy and disclaimer.

Send comments, suggestions and questions to the site author:
Craig Cramer cdcramer@clarityconnect.com

Coded using HoTMetaL Pro 3.0. Best viewed in Netscape 3.0 or later.
Please see our credits page for more information.

http://sunsite.unc.edu/farming-connection/grazing/features/warner.htm