Sustainable Farming Connection
Where farmers find and share information.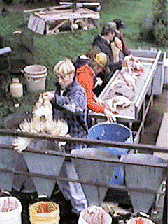 The MPU in action on Gary
Pettit's farm, Lodi, N.Y.

Mobile Poultry Processing Unit

Helps take the bite out of processing costs for small-scale poultry producers.
Processing is a big barrier for many would-be small-scale poultry producers. As daunting as butchering hundreds of chickens in your kitchen might be, it's even harder to justify the expense of building dedicated processing facilities when you're just starting to build your market.

That barrier has been lowered substantially for New York pastured-poultry producers by the staff of the South-Central NY RC&D, based in Norwich, N.Y. With the help of grants from Heifer Project International and the USDA-NRCS Graze-NY program, the RC&D built a Mobile Processing Unit (MPU) which is towed with a half-ton pickup to individual farms where producers use it to speed processing of their birds.

The RC&D charges the producers a small per-bird fee plus mileage. That's a bargain compared with the $1 to $1.75 per-bird cost at state-licensed processing facilities, which quickly eats up profits.

With the right tools and a little practice, a couple can process 20 birds per hour with the MPU, says Jim McLaughlin, coordinator of the RC&D's pastured poultry project. The savings translate to $27.50 per-hour for home-processed birds, plus the wastes can be composted to return organic matter to the soil, he notes.

The total cost of the unit was about $3,000, excluding the approximately 70 hours of labor it took to construct. The 25-foot-long unit is built on the frame of a mobile home trailer salvaged from a flood. The original plan was to keep the shell intact so that it could be used in any weather.

But concerns about heat from the scalder making the enclosed space unbearable in warm weather and difficulty maintaining good sanitation -- as well as the poor condition of the original flooring -- led the staff to strip the trailer down to the frame. They extended and reinforced the frame with angle-iron, and added a metal grating floor for easy hose-down.

The components of the system include:
5 poultry crates to handle live birds.
5 poultry kill cones to ensure proper bleeding.
A propane-fired scalder fashioned from a metal drum capable of handling three or four birds at a time.
A homemade 3- to 4-bird barrel-type feather plucker.
A stainless steel processing table.
Chilling tanks.
Knives and scales.
A 20-foot tarp that can be raised to provide shade or protection from the elements.
Hookups for 110-volt electricity and water.
Visit our MPU Photo Gallery to see the unit in action on Gary Pettit's farm in Lodi, N.Y. (It's about 750K-worth of photos. So it'll take awhile to load.)

For more information, contact McLaughlin at jrmclaughlin@juno.com . Write: SoCNY RC&D, 99 North Broad Street, Norwich, NY 13815. Phone: 607/334-3231 ext.4.




---
©1997 Committee for Sustainable Farm Publishing

Please read about our usage permission policy and disclaimer.

Send comments, suggestions and questions to the site author:
Craig Cramer cdcramer@clarityconnect.com

Coded using HoTMetaL Pro 3.0. Best viewed in Netscape 3.0 or later.
Please see our credits page for more information.

http://sunsite.unc.edu/farming-connection/grazing/pastpoul/mpu.htm