Sustainable Farming Connection
Where farmers find and share information.
Steel in the Field
New book is a practical guide to weed-control tools.

Ridge-till planters and cultivators are among the many weed-control tools profiled in Steel in the Field
[Full screen view, 291K]
[Photo by T.L. Gettings]

If you're looking for information on both common and exotic weed control tools -- and how to use them to help reduce or eliminate herbicides -- look no further.

Published by the USDA's Sustainable Ag Network, Steel in the Field combines university research, commercial ag engineering expertise and 22 farmer accounts of how to get the most out of these tools as part of sustainable farming systems.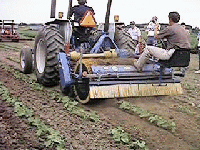 Steel in the Field also features specialized tools for small-scale horticulture systems.
[Photo by Craig Cramer]

The book features sections on 37 implements and 18 accessories including rotary hoes, wide-blade sweep plows, coil-tine weeders, automatic guidance systems, back-pack flame weeders and more. It covers the use of these tools in row crops, dryland grains, cotton, vegetables, orchards and vinyards. An appendix lists contact information on weed specialists and 105 equipment sources,

To order the $18 book, send check or purchase order to: Sustainable Agriculture Publications, Hills Building, University of Vermont, Burlington VT 05405-0082. To inquire about rush orders, international orders or bulk discounts, call (802) 656-0471. Email orders accepted with purchase order number: nesare@zoo.uvm.edu.

Full news release from the Sustainable Agriculture Network




---
©1997 Committee for Sustainable Farm Publishing

Please read about our usage permission policy and disclaimer.

Send comments, suggestions and questions to the site author:
Craig Cramer cdcramer@clarityconnect.com

Coded using HoTMetaL Pro 3.0. Best viewed in Netscape 3.0 or later.
Please see our credits page for more information.

http://sunsite.unc.edu/farming-connection/weeds/resource/steelrev.htm