The World War II Service of William L. Hurley
On February 12, 1942, just over two months after the attack on Pearl Harbor, Bill Hurley went to Fort Snelling, outside St. Paul, Minn., to enlist in the Army. He had evidently decided to sign up for the service of his choice instead of settling for whichever was chosen for him. He was a big guy, but had embarked on the "grapefruit diet" to lose weight. There are two Army personnel files for him, one of which was started that day. (The other covers the time from when he was commissioned in January of 1944 through the end of the war.) That file is full of information like his religious preference ("C" for Catholic), previous education (high school and two years of college plus time in the Civilian Conservation Corps in Washington), his blood type (O), his mother tongue (listed improbably as Irish), his civilian job ("Rad. Net.wk. Pub. & Rel. Sales" or radio network publicity and related sales), and dates of a long series of vaccinations. He also took a physical fitness test and watched training films with titles like "Personal Hygiene," "Military Courtesy & Customs of the Service," and "First Aid."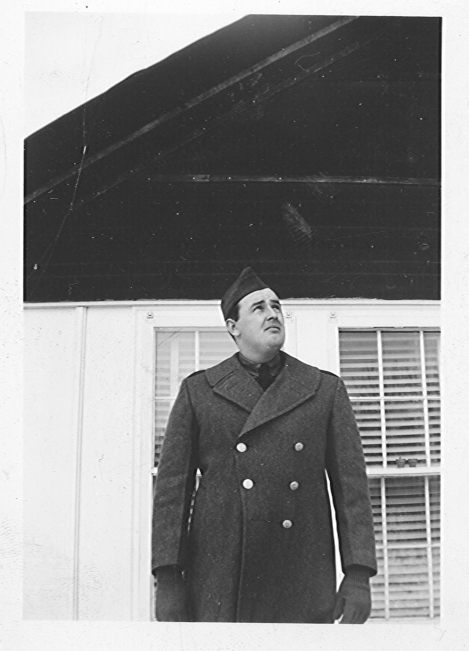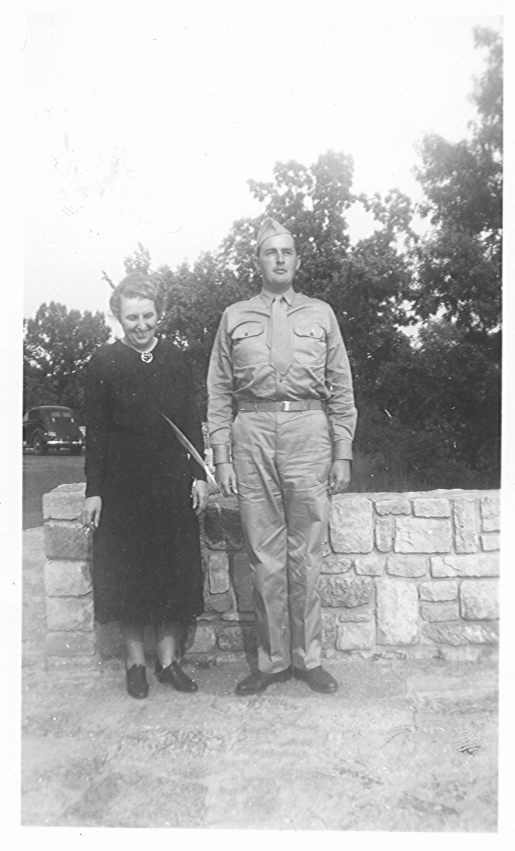 Two photographs of Grandpa Hurley in uniform: one alone, and one with his mother.
With other new recruits, Bill Hurley listened as an officer read the Articles of War -- as he would again about every six months thereafter. He fired thirty rounds with an M-1 carbine to qualify as a marksman (score: 137) and, later, with a .30 cal. rifle. This was all part of the training he received with Company C of the 2nd Ordnance Training Battalion at the Aberdeen Proving Grounds in Maryland, where he stayed from February 21, 1942 to April 1, 1942. ("Ordnance" is bombs, artillery shells, and the like: he was learning to be a bomb loader. Aberdeen Proving Grounds was an ordnance testing base that was only used to train Army recruits starting in World War II.)
Grandpa Hurley's future wife Betty Tolen was then living in Greenwich Village in New York City. She worked in the international department of the Westinghouse Company, according to my mother, who says that the office determined whether orders had priority for prdouction and sales during the war effort. Betty Tolen moved to New York from St. Paul, Minn., after the death of her father, in order to be near Bill. She met people of several nationalities through work, and they went out to the jazz clubs. She aqcuired a wardrobe of shoes and "at-home" gowns, several of which were sent from Europe and England, by her sister Jeanne Tolen, who was a nurse stationed there. Bill and Betty met in 1939, on a blind date at Stewart's.
After those weeks at Aberdeen, Bill Hurley was attached to Company D of the "2nd Ord. Trg. Btn.," or 2nd Ordnance Training Battalion, for four weeks, and then sent to the Army Air Base at Salt Lake City, Utah, on May 1, 1942 to join the 402nd Ordnance Company, Aviation (or "402 Ord Co Avn (B)" as the file says). Just before leaving for Utah, however, he and Betty got married: on April 24, 1942 they were married in a civil ceremony in New York city, and on April 27, 1942 they were married again in a church ceremony. Sone friends attended; they went out to the jazz clubs to celebrate.
A letter from Bill Hurley to his mother, dated May 4, 1942, on Aberdeen Proving Grounds letterhead, reads as follows:
P.S. Father McNamera is Chaplain. He is from the Basilica.

424 Ord. Co.
Salt Lake Air Base
Salt lake City, Utah

May 4
Dear Mom,

Sorry I haven't written sooner but same old excuses. We landed Friday noon and the place is a little disorganized yet. New bldgs. and hangars, etc. We are attached to a Heavy Bombardment Squadron with plenty of planes.

We had a accident happen nearby with United airliner hitting a mountain side. I guess there was too much snow & ice.

We have some beautiful equipment and fair officers. The base is filled with flying Lieutenants & Captains. Pretty good guys as yet.

As you probably know Salt Lake is surrounded by snow-capped mountains very pretty but cold.

The base is on the edge of town right next to city's airport. The only thing is we have 3 passes a week only there are 6 hours only that makes the boys unhappy. We have a 7 day week as there are always ships in the air plus the ferry command. They say they are going thru Mpls. often now so if I ever got a furlough (impossible) I might get in occasionally. Don't worry though I guess the Air Corps doesn't know what furloughs are.

You can send some air mail stamps if you think of it. They come in handy. No pay day as we were moving in pay time. Will write more later.

Love as ever,
Bill
P.S. Have you heard from Betty
His unit, the 424th Ordnance Company, was part of the 305th Bombardment Group (Heavy), which was in turn part of the 8th Air Force; Grandpa Hurley was assigned to it since it was first activated. Eventually, the 305th would move to England and be stationed at Grafton Underwood, and then Chelveston from December 1942 through July of 1945.
Grandpa Hurley's unit stayed in Utah for several months, and then moved to Geiger Field, Washington, on June 15, 1942. He wrote home again on July 7, 1942 (on Geiger Field letterhead) after the 305th Bomb. Group, including the 424th Ordnance Co., had been sent south to Muroc Lake Air Base in California. (Muroc Lake AB was renamed Edwards Air Force Base in 1950; it's on the edge of the Mojave Desert, and NASA's Space Shuttle sometimes takes advantage of the dry lakebed for landings.)
July 7
Dear Mom.

I think I have my chance now where is the mail? Well the desert life is beautiful 127 degrees yesterday It gets 100 degrees by 9:AM and stays that way til sundown. The wind blows til sundown and you can't see 100 yards ahead. I sure would like to Ed. Hall. [Ed Hallinan, a WWI veteran and his only uncle] or Percy B. then they would have something to talk about. It hasn't rained here for 18 months. The food is rotten & we spend all our money at a little desert restaurant. No milk hamburgers 25¢. They get two deliveries a week & the cooler broke down. I still didn't get paid so I am plenty short and toughing it. You can tell Pomp [Pompom was what they called his maternal grandmother, Mary Ann Donovan, who lived with them in St. Paul] or anybody that their grandson is so broke that it hurts. I had to buy that Car Tax Stamp and pay some debts. They say I will get paid in Aug. but our co. is breaking up. They split us into 4 platoons assigned to bomb squadrons and there are 60 fellows left over. We don't even have an officer for our 60 and I guess we may move and start a new company in Ariz. or someplace.

How is Evie [Evelyn Hurley Roehm, his first cousin] & Avie [a friend], Kay [Evie's daughter], Marge [another friend}. Tell them to write me a line. Evie sent some air mail stamps last time and I could stand some more. How is Jack & the store coming along. [Grandpa Hurley's mother Mary and her second husband, Jack, ran a drug store on University Avenue in St. Paul; John Francis Courtney was his full name, and he played AA baseball as "Red" Courtney] I haven't been to town yet and I think I can go to Los Angeles if things work right. Who do we know with the correct addresses?

Well mix me a heavy malted & ham sandwich and I'll see you later. Sounds like another Mojave Mirage doesn't it.

Write me soon Mom and don't worry I think I will be thru Mpls. before Fair week. [The Minnesota State Fair is held at the end of August every summer.] Cross your fingers.

Love,
Bill

305 Bomb. Group (ORD)
Muroc Lake, Calif.
Grandpa Hurley must have been one of the "60 fellows left over" who might go to "Ariz. or someplace": on July 21, 1942, as the 305th was heading to Europe, he was assigned to the "32nd. B. Hq. & AB.Sq." at Davis-Monthan Field in Tucson, Ariz. The 32nd Base Headquarters and Air Base Squadron was the highest level permanent unit on the base. They provided all of the services needed for the base, i.e., security, food, plumbing, carpentry, maintenance of buildings and facilities, etc.; Grandpa Hurley worked in the Public Relations Office. Leon Harris, Bill Hurley's brother-in-law, served in the 6929th RSM (a unit like the 7th AAF RSM) at Osan Air Base during the Korean War. He wrote me and said that Bill Hurley once told him that, while stationed at Davis-Monthan in Arizona, he had worked on public relations for the commander, then Lt. Col. Curtis LeMay.
Here's a picture of the dedication of a new base chapel: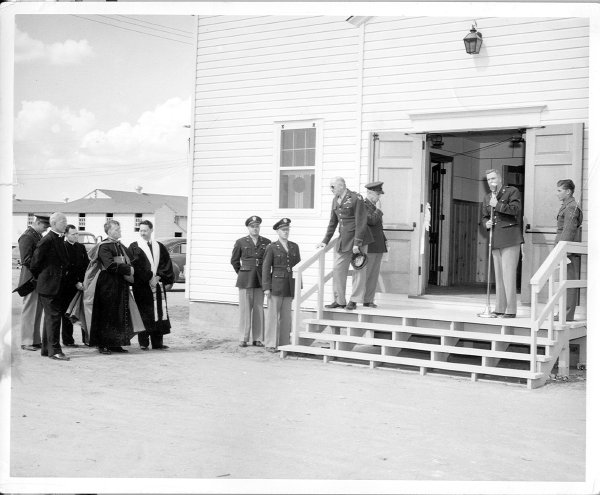 Dedicating new chapel
Chaplain Reynolds
(I'm not sure that Grandpa is even in this picture.)
Here's a photo of the 32nd Base Headquarters and Air Base Squadron's dayroom, where off-duty men could relax and read a magazine or play cards: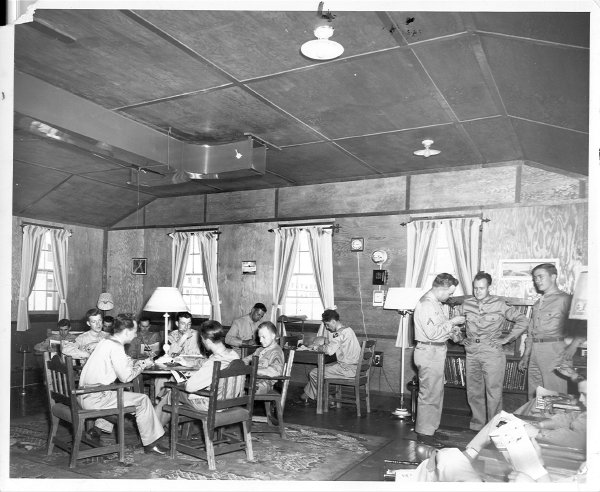 Shortly after arriving in Arizona, on July 26, 1942, Grandpa Hurley was promoted to Corporal (T). The public relations work he was doing at Davis Monthan was likely a natural extension of his pre-war job in radio ad sales. He stayed there for almost a year, until being transferred to Texas in July, 1942. Here's a letter home from March 3, 1943:
March 3, 1943
Dear Mom and all,

We [Betty had moved out to join him in Utah] haven't heard from you in over a week and are beginning to wonder about what's cookin up there.

The weather here has been ideal and I suppose that it continues to be cold and blustery as usual there. In fact it was the warmest February in history down here.

The rationing program down here isn't so bad except that it will cost us much more to buy all fresh veg. and fruits than before. I suppose that it isn't any picnic up there as the price of that stuff is always high in the wintertime. Betty is a very good planner and I'm not worrying much if the money holds out.

We were talking to the Vorhees [friends of their, Al & his wife] and they haven't seen hide nor hair of that ham and I'm beginning to wonder if that didn't go with the license plates.

I am on Charge of Quarters tonight and it is raining for the first time this year. CQ is a job where you hang around all night and take care of any transient flyers or anything that happens such as men coming in from furlough or getting picked up by the MP's downtown. I catch this about once every 3 months and usually get about 4 hours sleep.

I received the newspapers with all the markings in it. I had a copy of that paper the same week it came out Feb. 20, one of the fellows in headquarters brought it in to show me the picture and story about that Captain being decorated. I wrote the story and got the picture on that and was pleased the St. Paul papers used it. I saw the Captain's clippings and he had them from all over the country including Duluth, Hibbing and even his hometown of Gilbert.

They told me my officers school application would take six to eight months owing to the large number of applications. I can go to one of the other ones right away as they men, but I'm biding my time as the Air Corps school is the one I want. They told me the war might be over before I was an officer, but what the hell, I'm in no hurry.

I guess we are going on a picnic next Sunday out in Sabino Canyon a few miles from town. It is very beautiful and at this time of year the streams are all full of melted snow, and the only streams for miles around.

We moved to the court next door, owing to the fact that it is larger and has an inner-spring mattress. The new place as a living room which is twice as large and generally much better. The rent is a little more but it is worth it.

How is everybody getting along at home? I wrote a letter to Pomp and as yet haven't heard from her or any of the rest.

I suppose the drugstore is still going strong? And that both of you are seeing how many hours you can put in. Remember that store isn't worth a damn if you get sick and can't get well, just because the store came first.

Well drop us a line soon and let us know whats going on. Also interested in what happened to the ham and the license plates [for their gray 1941 Ford coupe]??

As ever
Bill
And another from March 8, 1943:

Mar. 8, 1943

Dear Mom,

Received the box OK and it was just what we needed. The candy is not available down here and Betty made some Toll House cookies Friday night and nuts are plentiful so we loaded the cookies with those. The blades are getting very hard to purchase down here and I really appreciate them very much.

We moved again I think I told you about moving next door. We have been busy calsaming and painting the place up to make it livable. Betty brought some more paint at the dime store and has been busy painting the furniture that was here. The stuff was pretty well nicked up and she also made some curtains for the bedroom.

She is getting as bad as you with the stew and the meat pies. Now she really has an excuse for making the up some of the dinners but thank goodness she is a good cook with this rationing the way it is.

They cut our office force down by one member as they sent Jordon to Kansas on a cadre. He wasn't a big producer so he won't be missed much.

We are in the midst of a physical training program and they are trying to take our waistlines down a few more inches. They have us running and taking all sorts of violent exercises that will make us young and ready. These things start up about every four months and then die down after about four five weeks of drill.

I haven't heard on my officers school and don't expect to hear until sometime in the summer. The only thing is that I would like to get out of here before the heat sets in for good. We had four days of rain and the ranchers were very pleased while the soldiers were marching around in the mud.

We have a new General as the other was retired on account of sickness. He is arriving soon and I suppose that they will make a big noise over his arrival. That story you marked on the Arizona hero was mine and he is a swell guy. Did the Mpls. papers use it?

My New Yorker is coming every week and we get a big kick out of it. It is the fastest suscription that ever went thru the Courtney Drug.

Has the weather let yp any up there yet?

Haven't heard from McGovern sinve I have returned. I'll write once more and then the hell with him for the duration.

They had us out a training problems Sunday night and it ruined my weekend as Betty had planned to go out. They are also giving us our shots as I have been in a year and you have to take them all over again.

They read us at church yesterday that we are excused from fasting through Lent except on Fridays and Saturday before Easter. They figure there will be enough fasting with the rationing program. Did you get the same ruling?

Betty was taking some treatments for her back out at the base and they seem to have done some good as she has not complained of them since. I was worried for a while but she seems to be better. She also cut down on the amount of work she is doing and doesn't go to work Tues., Thurs., and Saturday mornings. She will have more time to spend around the house and get some needed rest.

How have you been feeling since that week you took off? I think you should take every 4th week off and you would feel a lot better. Remember that your health is important even in comparison to a drug store.

Write soon and let's have and clippings you see.

As ever

Bill
Here's what some of those "violent exercises" might have looked like: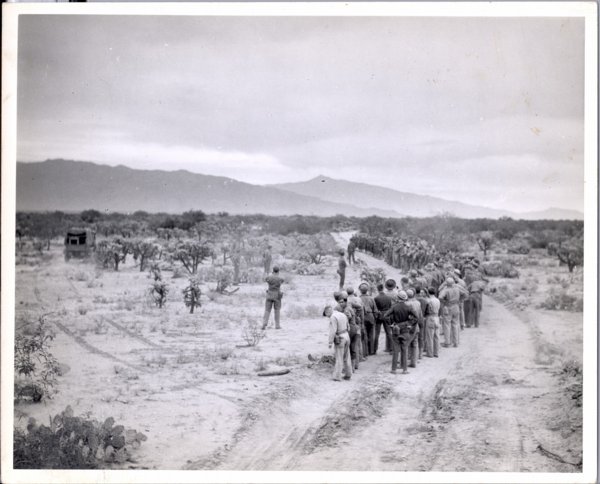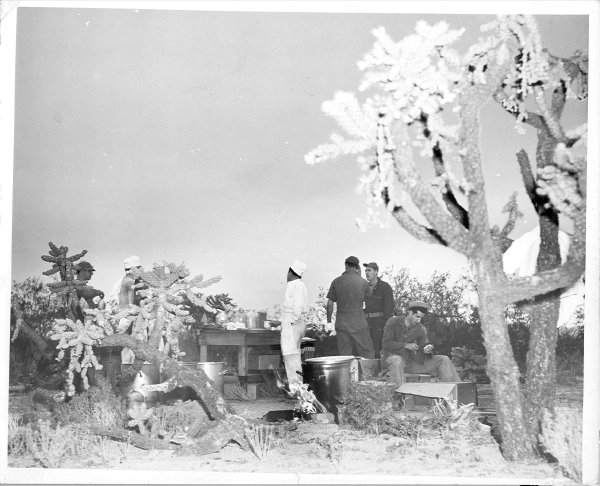 Both photos read "Hike 10/42" on the back.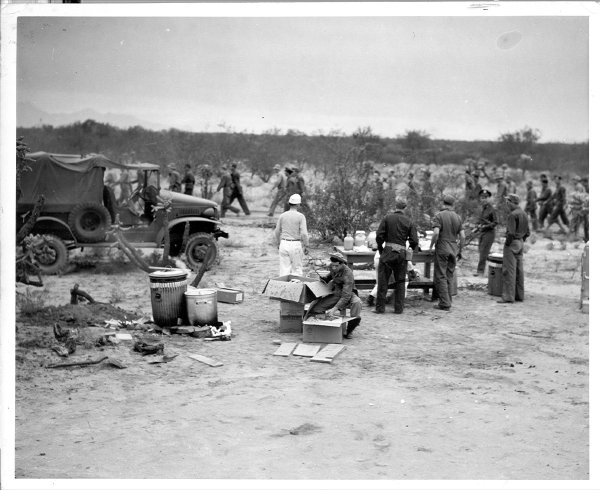 This photo reads "Bivouac 10/42 - 32nd" on the back.
My mother says that Grandpa Hurley learned Japanese while he was stationed in Arizona and, while his records don't specifically mention any language lessons, Biggs Field is near El Paso, which was a military language training center. What's certain, however, is that later training in Harrisburg, Penn., (see below) included several weeks of Japanese language lessons intended for interrogating prisoners of war. Regardless, Bill Hurley was transferred to "HQ 1st Bomb. Comd." at Biggs Field, Texas, on July 10, 1943 and immediately assigned to "Hq. & Hq. Sq. XX Bomb. Comd.," the Headquarters and Headquarters Squadron of the XX Bomber Command. Confusingly, "there were two XX Bomber Commands during the war; both were assigned to the Second Air Force. The first one was activated as the I Bomber Command in El Paso, TX, on May 1, 1943; it was redesignated XX Bomber Command in August 1943 [just before Grandpa Hurley arrived] and disbanded on October 6, 1943. The second XX Bomber Command was activated at Smoky Hill AAFld, KS, on November 20, 1943 and left for India in February 1944 to control all B-29 units in that theater." (From an email from Jack McKillop) Curtis LeMay probably commanded that unit in India after Feb. 1944, so this all makes some sense.
Grandpa Hurley was promoted to Sergeant (T) on February 1, 1943, while at Davis-Monthan, and later promoted to Staff Sergeant (T) on August 6, 1943. Both promotions are noted with the designation of rank followed by a "T" which indicated that his was a technical speciality. (Such enlisted ranks are now called Specialists.)
From September 19, 1943 to January 7, 1944 he was assigned to the "304th TSS (Sq)." This was the Technical School Squadron, or Officer Candidate School, in Miami Beach, Fla. At the end of officer training, Bill Hurley was commissioned a second lieutenant in the Army Air Corps, and promptly sent back to school: his time in Florida had included specialized training in intelligence, so his first post after graduation was for two more months of intelligence training at the Army Air Force's Air Intelligence School in Harrisburg, Penn. But between his time in Miami Beach and being sent to Harrisburg, Bill Hurley became a father for the first time. His daughter Alison was born on January 29, 1944. He got his leave extended in order to accommodate the baby's late arrival, which helps explain why the two months of training that ended on March 31, 1944 had started so long after receiving his commission on January 7, 1944.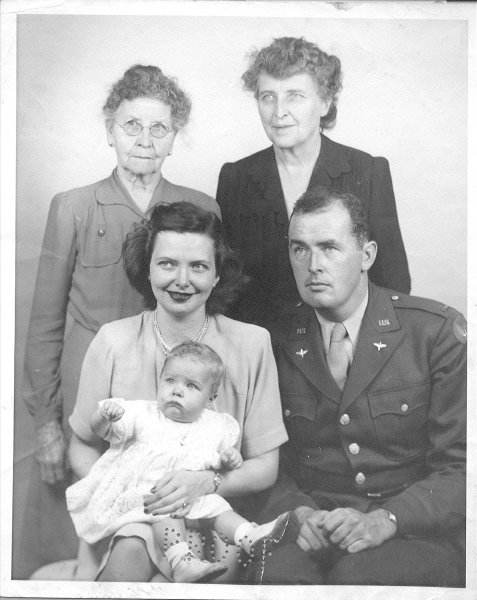 Family portrait, early 1944: Bill and Betty Hurley, with their new daughter, and Bill's mother and grandmother.
At the Air Intelligence School in Harrisburg, "more than half of the graduates received specialized training in combat intelligence. This course...addressed briefing preparation, debriefing of combat crews, aircraft recognition training, preparation and use of objective folders, target charts and maps, report preparation for higher headquarters, and use of intelligence data such as enemy air OB, tactics, and targets." (Kreis, p. 130 ff) The instruction started with three weeks of general air intelligence; after five weeks studying combat intelligence and photointerpretation, there were six weeks for POW interrogation (i.e., Japanese language lessons), and then base intelligence (i.e., economic analysis).
However, this would be far from enough training to get anything useful done. "Even with the training they had received, graduates off the AAF Air Intelligence School were qualified only as basic intelligence officers. Whenever possible, the operational commands to which they were assigned provided theater-specific qualification training" -- which is why Bill Hurley, upon assignment to the 8th AAF Radio Squadron, Mobile (J), at Camp Pinedale near Fresno, Calif., on April 15, 1944, would immediately resume training, and then spend even more time in training once he arrived in theatre (i.e., in the Philippines, where the war was being fought). (Kreis, p. 131.)
Finally Lt. Hurley was attached to a unit, the 8th AAF RSM (J), and he moved to California. The "J" in the unit's name indicates that they specialized in listening to Japanese radio signals, just as some units operating in Europe had a "G" at the end of their name for their specialty, German. He had a job, too, as an Intelligence Evaluation Officer. While at Camp Pinedale, he completed a course in map and aerial photography reading, and on May 30, 1944, he was reassigned to the unit with which he would spend the rest of the war, the 7th AAF Radio Squadron, Mobile (J), an element of the 13th Air Force. Here's what Grandpa Hurley looked like then: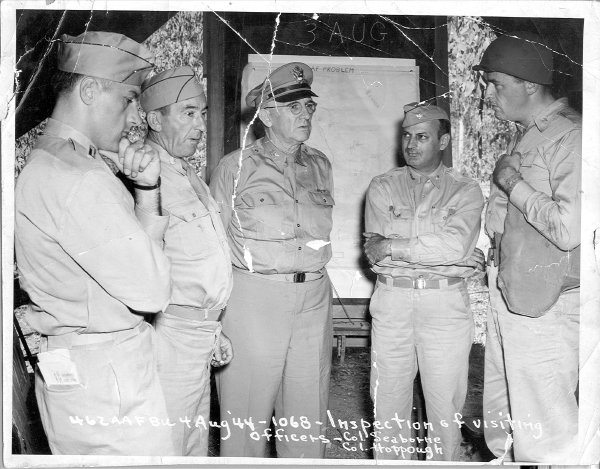 (Front side) 462 AAF BU 4 AUG '44 - 1068 - 'Inspection of visiting officers - Col. Seaborne Col. Hoppough'
(Back side) Left to right: Capt Gagnos, Lt Col Gibney Col Hoppiful, Col Seaborne, 2nd LT W.L.Hurley
For the remainder of the war, Grandpa Hurley's personnel record lists his Military Occupational Specialty as an Intelligence Evaluation Officer, and he continued the ceaseless training. After joining the 7th RSM, Grandpa Hurley completed a course in "Personal Adjustment Problems," and then enjoyed a course in Malaria Control Training. There's an interesting entry in his records dated October 20, 1944 which reads, "Favorable Loyalty Check for position of trust and cryptographic duties, local FBI, Service Command Intelligence and home town police checks - Results filed in 9th SC." (The "9th S.C." is presumably the Ninth Service Command, which was responsible for administration of units in the states of Arizona, Idaho, Montana, Nevada, Oregon, Utah, Washington, and California; as the 7th RSM was based at Camp Pinedale, near Fresno, Calif., the 9th Service Command had responsibility for its members.) It's clear that he had duties of great secrecy, though it was unusually late for performing such a background check, typical for people who handled sensitive material. Leon Harris called the RSM's "secretive and selective," and to be chosen for such a duty spoke highly of a soldier.
On Grandpa Hurley's Certificate of Separation, the one-page summary of his service prepared when he was discharged, it says that he "departed the U.S. for foreign service" on November 11, 1944; he arrived in Finschhafen, on the eastern end of the island of New Guinea in the south Pacific, on the first day of December 1944. (Consider referring to the maps now.) He left a week later and arrived in Hollandia, right in the center of New Guinea's north shore, on December 11, 1944.
Here's a letter home that Grandpa wrote from the Netherland East Indies (now called Indonesia), dated December 23, 1944:
Dec 23 N.E.I. P.S. Where's the mail? St. Paul coming in weak.

Dear Mom,
Got your letter of Dec. 2 last night was glad to hear you are all O.K.

We got off of the boat Thurs. and have been working like mad unloading. Along the shore very beautiful like the Dells, Wisc. but God it's hot. Found out you can only do manual labor 4 hours a day. We are at a strip and it's not too bad. Food the same in my C rations I found a small bag of hard candy from Griggs-Cooper and a hard biscuit cereal you mix with water from Pillsbury's.

Heard about a storm in the Mid-West and would like to be there to enjoy it. This place they are doing some decorating with candles in tents, red parachutes, etc. But it is too hot.

You all had a nice Xmas I hope. Sorry I wasn't around to sit in. How did Miss A. make out? Tell her I catch up later.

I can't use the films as much as I would like to see them. The bare necessities are all that is available down here.

Sorry that Tom has the family worried but he'll be O.K. after a while in the states.

We heard the war news from Europe and it sounded terrible. They must have a rough go of it. Sorry about Pete Butler he was a nice fellow. Hope Callahan [Mac Callahan, a very close family friend, who was in the 4th Infantry Division and landed at Utah Beach on D-Day] makes it out O.K. in this present deal.

Sounds like the real estate biz is booming. All that money means nothing out here. Just a few Dutch guilders for cigarettes, blades, toothpaste is all we need at present. We haven't had coffee so if you sent a package send some Nescafe. No spam or sauerkraut.

You should get this by the 10th of Jan. I hope. The mail is improving

Love,
Bill

New address
Lt. ---..-0-584436
7th AAF RSM
APO 719 -- new APO 719
c/o [P??] San F


I just got a report
Spam - this noon
Hurray.
As he writes, it was always hot and always wet in the south Pacific: John Mullady, a B-24 navigator, said, "You were never dry. You'd sweat while it rained." (Bergerud, p. 393)
The remark about Spam was a common complaint. "Despite all the efforts of dietary experts to aid them, the AAF cooks could achieve only so much with the dehydrated eggs, Spam, Vienna sausages, stew, and C rations which the mess halls had in abundance." (Craven and Cates, pp. 270-1) Unbelievably, one unit "found Spam on the table for thirty-one consecutive days..." (Ibid)
Eric Bergerud agrees: "Food was another standard by which men in World War II judged their life, and on that count the situation was awful... [A] monotonous and bad diet over many months proved a major problem for Allied morale. In our era, for the first time in history, many people in the industrial world suffer health problems due to an overabundance of inexpensive foodstuffs. The diet endured for months on end by a serviceman in the South Pacific would be almost unimaginable to a modern civilian. Nothing was fresh. Breakfast might be prepacked pancakes with sugar-syrup or despised Australian marmalade. Remaining meals took advantage of whatever was available from the companies -- operating in the golden era of canned food. Some goodies were controversial. I have talked with many men who today both like and despise Spam, one of the most universally served foodstuffs. Vienna sausages, another common delight, were likewise received with divided opinion. If there was anyone who developed a taste for dehydrated vegetables, he has not contacted me." (p. 390)
From Hollandia, the 7th RSM was sent west on January 14, 1945 to the tiny island of Morotai (between Borneo, New Guinea, and the Philippines). Here's another letter, dated January 6, 1945, in which Grandpa Hurley mentions meeting some Australians. Bergerud says that, "...most Americans felt a strong cultural affinity with the two nations [Australia and New Zealand]" so it's not surprising that they socialized as well as worked together (p. 406).
6 Jan I guess N.E.I. Dear Mom & All,
Sorry for the delay but have been busy setting up a small temp. camp for myself & 8 E.M. [enlisted men] It's now completed with my own tent, etc. We have no water lights or candles which is a joke -. One man was reading his letter from home & his wife was making a novena etc. The boy asked what a novena was & he explained the prayers & lighting a candle daily, etc. The listener exclaimed, "Tell her to steal some candles & send the G. damn things over here as we need 'em." We think it's funny or is our humor slightly distorted?

Good to hear Jack's birthday was a howling success.

Sounded like Tom & the baby got along fine.

I think you should get my mail regularly now as they service is faster going back. The mail from the west coast sometimes takes only 10 or 12 days but Minn. a little longer. Your last took only 15 days. Air Mail is the only thing. I received my first New Yorker Nov. 4 & glad to get it. I think it will be regular now & about 2 mos. later than before.

Got a nice card & letter from Corrine H. which I answered.

The rain still comes. Raining right now & a steady downpour with or without thunder. This is summer & is supposedly dryer than the wet season. The trucks all use chains & the red mud has any "gumbo" beat for thickness. Everything gets red including your hair. We have no water except canteens so we try & catch rain water for washing clothes, etc. We bathe in our helmets & if you are good it only takes two helmets. But they being round makes it slightly difficult. Cpl. Pop Kelly says he is writing Bklyn. for 12 bars of P&G Naptha & claims that will do the trick.

A Navy officer had my aboard his landing craft for dinner the other day. Marvelous china service, fresh lemons, ice cubes, butter etc. I missed the boat when I didn't get in that. They live well aboard their little castles.

Met some "Aussies" who do my type of work & had a nice time. They get 2 qts. of bitter ale weekly & gave me some plus bitter sweet tropic chocolate called "White Signet" better than Nestles. You can also boil it with condensed milk & water for hot chocolate. Nice on a wet night. Haven't heard any news this week but I guess things are going better over in Europe. Some out here are optimistic about our 2nd rate war & hope they are right. Everybody I met who has fought the Nips say they are rugged little fellows, but think our men plus terrific supplies will take them out before too long.

Here is a request for canned food. Better send it in wood or metal boxes as rain plus tons in holds of ships ruin it. One of my boys got a box mailed 2 Nov. that is about average 2 months.

Still in fine health except for a few boils now & then. The funny thing is you get terrific head colds out in this heat. They make sinus headaches which go away with a couple of dry days. Feel fine & seem to be in good shape. Lost a little fat which is a good thing. Most of the dry food such as beans, macaroni, etc, are starchy and some men get fat.

Sent Betty a money order hope she got it O.K. If she doesn't get it by the 25th tell her to let me know & I will put a tracer on it.

How's your health? Hope you are taking care of yourself these days & don't get sick.

How is Betty feeling? She made no mention of her health in her letter. Hope she can get thru the winter O.K. & maybe she will regain some of her zest this spring. I think that childbirth set her back terribly & took its toll. Hope I'm right & she starts feeling better. She is only a young girl & should recover some.

Loads of love to all & I do appreciate your letters.

As ever,
Bill
APO 719
There was often ill-feeling about the lifestyle that sailors led, so rich when compared with that of Air Force service and support troops (like mechanics, armorers, radio operators, etc.). "[Navy personnel] arrived with material to floor and screen their tents or with enough (pre-fabricated) quonset huts to house all their personnel. Their kitchen and mess halls were equipped with adequate refrigeration, cooling facilities, ice cream machines, and sanitary conveniences. Their cooks regularly were furnished fresh meats and vegetables, flour, coffee, and sugar, and their ships' stores were well stocked. AAF organizations, on the other hand, reached their stations without refrigeration units -- or with inadequate ones -- without screen wire, lumber, pipe, nails, shower heads -- without all the dozens of items necessary to maintain a reasonably comfortable living standard, or even health and full combat efficiency." (Craven and Cates, p. 270)
Further, the boring diet "did not help their morale, at any rate, not when, as on [the island base of] Espiritu Santo, men of the 321st Service group could step across the road and see naval personnel living in quarters up off the ground, sleeping in hospital-type spring beds, and provided with ample supplies of ice cream and beer. It was not uncommon for men at Espiritu Santo to enter the mess halls, look at the food, and walk out.' (Ibid) The cause of this was that the Navy had great huge ships that they could cram full of equipment, while the airmen had to either fly in what they needed, or get the Navy to carry it for them.
The 13th Air Force is often called "The Jungle Air Force," because many of its units operated from tiny airstrips hacked out of the jungle on scattered islets. It eventually merged with the 5th Air Force into the Far East Air Force, but the 5th is far better known (as he mentions in his next letter, which comes so close on the heels of the last one).
10 Jan N.E.I.
Dear Family,
The mail is speeding up I got your letter of the 27th the 7th or 8th. Once in a while they get here in a hurry. Sorry I was late answering it but the usual delays.

Feeling good after a few days of home nursing. I had dysentery & cured myself with a little warm milk & sugar for a diet. You'd of died laughing at me cooking up hot water in a canteen cup & then adding canned milk & a little sugar. It sure did the trick. I can now drink evap. [evaporated] milk just like it was Northland's best & love it. My health is good the only thing is ingrown hairs & boils. But I can cure them pronto.

Moved back to the airstrip after being on guard for a while & glad to be back to the showers & running water. The elev. [elevation] is higher here & have an 8,000 ft. mountain behind us and a large lake nearby. The lake is about the size of Leech Lake only one side covered with jungle while the other side has green rolling hills like S. Minn. Natives build houses on sticks out on the water & have a hell of a time with those little boats. They pile hundreds in them & make children paddle.

[Here he includes a rough drawing of an outrigger canoe.]

We are in the 13th Air Force if that is any help. They are not as well equipped for public relations as some of the others. Finney's outfit in Saipan really gets the publicity back home I imagine. Col. St. Clair McKelway (Edit. of New Yorker) is his boss. Swell guy according to Finney. The war seems to be going well over here. At least my plans agree with theirs. Maybe when we get thru here we will all go to Belgium.

Damn good thing Ed. Meyers isn't over here I'm afraid the cooking wouldn't agree with him.

Glad to hear that Xmas went well & hope New Years was as good.

Can understand that the boy (cousin) was glad to leave N.G. [New Guinea?] with or without the P. Heart. Haven't heard from Mac but suppose he'll make out O.K. as will his wife.

Haven't a 16mm projector so you better hold on to the films til I get back next time. Will love to see them as they sound real good. If you can get 35mm would greatly appreciate sending them. If it is not excessive send them Air Mail. A dollar or two is worth it out here. A 1st Class letter mailed from Time mailed Nov. 11 takes about 2 months.

I sent Time $8.00 more so I could get the Pacific Pony Edition which is only a week later. Well worth it as it's small & comes Air Mail.

Heard from all sorts of people this week. D. Martinson, Corrinne Hurley, Emrys, a bunch of Xmas cards. Some letters from England & France. Mostly Army personnel.

Sounds like Miss A. did O.K. Xmas. Is she old enough to appreciate it all?

Send me some canned food please. As it comes late we'll have an Easter party. Haven't gotten to the Xmas boxes yet but am anxiously waiting. Also set aside [at the drug store] 1 doz. Lactona t. brushes & mail one or two at a time. Please as far as food is concerned tuna, lobster, shrimp, chicken (no ham), all canned plus Nescafe.

Love & the best to all,

As ever,
Bill
P.S. Hope I answered all questions.
The remark about Finney's outfit getting the publicity points out a split between the 5th and 13th Air Forces. The 5th was the older organization -- the 13th was created in January of 1942 out of parts of other units: "Personnel for the force, at least most of it, would have to come from units in the field." Those units "were under the commanders of the various island bases, who controlled training functions as well as as the defenses of the particular base." (Craven and Cate, pp. 71-2) Even when the 5th, 7th, and 13th Air Forces later joined together as the Far East Air Force, the 13th was always secondary to the 5th. Grandpa Hurley's remark, therefore, could be either good-natured or bitter.
The mention of Col. St. Clair McKelway piqued my interest. I found out that McKelway was indeed an editor at the New Yorker before the war. In addition, I received an email from Matt Clark that said, "...Mac became quite famous in the Air Force when he had a nervous breakdown, disturbed over what he considered the excessive loss of life among Navy pilots flying missions against the Japanese mainland from the Third Fleet. He thought the Army Air Force should handle these missions and went on an all points teletype circuit to accuse Admiral Nimitz and others of serious misdemeanors including high treason. It resulted in his being quietly relieved and sent back to the States." MacKelway wrote a piece in the New Yorker in June of 1958 that told the story and it's well worth reading; in it, he writes that he was on the staff of the Twenty-First Bomber Command, part of the Twentieth Air Force.
Corroborating Grandpa's statement, Mr. Clark concludes by saying, "At one point during his service in the Pacific, I think [McKelway] was the personal PIO [Public Information officer] for Curtis LeMay."
Here's another letter, dated from the Molucca Islands, which is a chain of islands 600 miles long (and which may imply the location noted on Grandpa's papers, Morotai, but which probably means just a tiny island somewhere in that area):
Sun AM 28th Jan.
Molocca Is.

Dear Mom & All,
Your letter of 3 weeks ago today arrived yesterday and sounded most encouraging. Of course we get Jap, German, English & U.S. news broadcasts in short-wave even Vichy French from Radio Saigon. I now get San Francisco every night around midnight. Sounds good to hear S.F. USA.

I will write to Mac soon and imagine he made out O.K. That must have been a rough go but looks better. According to news today our gains in Luzon were nil. Maybe the Jap ground forces are starting to fight.

We have run into a small snag. We now have coffee but no canned cream. In the next box send a small can of condensed milk. Surprisingly enough I don't mind the food. We get no fresh food except coconuts & bamboo shoots but now we are undergoing a load of canned chili & dehydrated cabbage plus C ration "cookies." It seems to come in spells. Not bad though. The water is brackish tasting so lemon powder is used. The result a milkish battery acid. When you're thirsty tastes damn fine. We get plenty of food considering.

When I was in Biak I should have looked up "Doc" Balcombe but you know the Army. De Joseph is still down at Hollandia and may get an outfit of his own. I hope so. As you notice the censorship rules are relaxed here and it is a good thing. I might be able to get De Joseph to look up Lt. Bouma for Jeanne.

I heartily agree that the trip was a good thing for Betty and hope she can get some enjoyment out of it.

All the comedy shows are transcribed without commercials, plus command performances etc. But I've seemed to developed a dislike for them but listen to some. News, musical shows & live shows from the states. Funny thing a ham announcer describing Union Sq. S. F., Manhattan, holds my interest more than Jack Benny. Armed Forces Radio have set up a jungle network of stations about the strength of WMIN in the back areas.

My Air Mail Time [Magazine] should start next month. Also received my Nov. 11 New Yorker [magazine] this week. I like the state issue with adv. [advertising?], etc. better than the small overseas New Yorker. [This edition was produced from 1943 through the end of the war.]

Oh yes and 35mm films Air Mail if you can get them please.

As for clothes No right now I'm in bathing trunks and slippers. At night we wear coveralls for mosquitos [which carry malaria]. No women around so we can live as we want. The only catch we must wear suntans [i.e, khaki uniform trousers and long-sleeved shirt] when we go to headquarters. Did you receive my paper yet?

We had turkey Thanksgiving & Christmas and was fine to have.

I am fine & healthy except for this one. We found some new dry cereal and we eat a box each the other day. I went to the Doc. & he laughed like hell saying, "Each of those boxes contain enough laxative for five men for one day." I believed him too.

Met a boy from my old bunch at Salt Lake and he has been over 31 months. Hope to get back soon. In fine health though.

Loads of love & don't worry
Love,
Bill
Here Grandpa mentions the radio shows that were provided to the troops, but not movies. This may have been due to a preference for radio arising from his work, though apparently the movies "were a wretchedly poor type of B picture, so poor that in some cases the men could not sit though them..." (Craven and Cates, p. 276) Eric Bergerud says this about the movies: "If I were to create an image that best represents the misery, futility, and black humor of the South Pacific it would have to be a night at the movies in the South Seas. Every unit had a projector and, because movies were circulated by airplane, there was a good supply. However, what men learned to accept as a theater almost defies the modern imagination, accustomed to late-twentieth-century multiplexes. Lee Tipton of the Thirteenth Air Force described a scene that dozens of other veterans also mentioned. What is startling is how normal Tipton and others make it sound:"
We had movies at night. A movie theater consisted of a dozen coconut logs and a cover about the size of an umbrella that covered a movie projector. And then a screen about the size you'd find in someone's home for a slide projector. That was our entertainment. We'd sit there in the rain. You'd get used to that. Some wore ponchos, but they were so darn hot that many guys just sat there in what passed for a uniform. The rain was a little cooling. Of course there was mud all around. The darkness around the screen was total, and sometimes it was difficult to hear what was being said when the rain picked up. But men just sat there on those logs and became immersed in the film while getting soaked to the bone. When vehicles became more numerous, it was very common for men from other units to come up and see the film if it was better than the one showing at their theater. There was no popcorn and no ushers. (Bergerud, pp. 395-6)
In early April 1945, the 7th RSM went on to Port Au Prince, on Palawan (a speck of land between the northern coast of Borneo and the Philippine island of Mindanao, about as far north as the southern tip of Viet Nam). On April 29, 1945 he was detached from the 7th RSM and flown south to Brisbane, Australia, to spend six weeks at Central Bureau as a student officer.
Central Bureau was the name given to the combined Allied intelligence headquarters that General MacArthur set up in Brisbane, Australia, after withdrawing from the Philippines in 1942. He believed that the delay involved in sending all intercepted radio traffic to the centralized cryptanalysts in Washington, D.C., reduced the value of any information. As a result, he created Central Bureau so that messages could be analyzed on site, while continuing to forward copies of all intercepted messages to Washington.
Central Bureau was responsible for analyzing and collating all the radio interceptions, decoded messages, and signal traffic collected throughout the south Pacific. Officers at Central Bureau included some of the best men and women working on code-breaking, interrogation, or traffic analysis anywhere. Men like Abe Sinkov, who was famous as an early Army code-breaker, could be found at Central Bureau by the war's end. In addition to all the intelligence-gathering for the southwest Pacific, the staff at Central Bureau provided training to Allied intelligence officers in traffic analysis, statistical analysis, and direction finding. As mentioned earlier, graduates of the Air Intelligence School needed hands-on training -- and in the South West Pacific, Central Bureau was where they got it.
By early June of 1945, Lt. Hurley was done at Central Bureau, and went on to Leyte, an island midway up the eastern side of the Philippines. On June 19, he rejoined the 7th RSM.
Here's a description of daily life in the 1st RSM, "which in August 1943 superceded the 138th Signal Radio Intercept Company in New Guinea.... At the air headquarters, the squadron had sevety-nine men. Intercept operators fed messages captured in the clear or in low-grade code or cipher to the analysis section, which in turn translated or decoded for the intelligence evaluation section. From there, the evaluators [like Bill Hurley] sent information to Fifth Air Force headquarters, to the AA [anti-aircraft] command, or to the air defense fighter controllers. Messages of higher grade cipher were transferred to Brisbane for decryption and analysis. Other sections of the squadron repaired equipment, encrypted and transmitted messages, or performed various support functions.... In addition to the decryption work in the Philippines, the 1st Radio Squadron's direction-finding teams ran an around-the-clock listening service that covered the Japanese Army and Navy air forces' operations. Overhearing enemy transmissions, translators noted the content. Direction-finding teams simultaneously reported locations of probable enemy airfields or the bearing of approaching aircraft beyond radar range so that operations planners could schedule air strikes or direct fighters to intercept." (Kreis, pp. 361-2.)
Essentially, Grandpa Hurley and his fellows would sit in the jungle and listen to the Japanese talk on the radio. They'd write down the Kata Kana (Japanese Morse Code) characters that corresponded to the long and short beeps they heard, and then Nisei (second-generation Japanese-Americans) or soldiers trained to speak Japanese would try to decode those messages. (See the Appendices for an explanation of Kata Kana and how written Japanese was transmitted via radio.) Bill Hurley would read through the intercepted text and consider its possible importance, and guess at what might fill in the blanks (the parts that they couldn't decode or didn't hear). In addition, he had to determine which messages to send on to headquarters. (All of the intercepted messages were forwarded to Washington for statistical analysis, and the compass bearing of the intercepted messages would also be recorded and reported.)
The two things that made the RSM's different from intelligence units in the European or North African/Middle Eastern theaters is the fact that they were largely self-contained, and that they provided tactical [i.e., local] instead of strategic [i.e., theater-wide] intelligence. First, instead of just passively collecting radio traffic for analysis back in Washington, or only doing direction-finding, or only gathering data for traffic analysis, an RSM could find an active Japanese radio channel, locate its source, decode and translate the message, and pass along the results to a higher-level command. They were "one-stop shopping" for enemy radio intelligence.
Second, the work of the RSM's was intended to benefit the high-level unit of which they were a part (like the 13th Air Force, for example) instead of benefiting the entire Allied war effort. That is, if an RSM discovered something like an incoming Japanese troop convoy, that fact might be acted on immediately (in the form of, say, the scheduling of an air raid) instead of just being added to the stockpile of information that accumulated at headquarters.
The radio monitoring by the RSM's was carried on near the forward edges of Allied progress, as well as back in safer areas -- as far back, in fact, as Washington, thanks to the way radio signals propagate -- but Bill Hurley was relatively near the front. However, though he was within reach of Japanese forces all the time, his postings were pretty far behind the forward line.
We can consider his position in relation to the progress of the Allied advance through the southwest Pacific. His travel from New Guinea west and north generally reflected the path along which General MacArthur had sent his troops in the months preceding Grandpa Hurley's arrival. In November 1944, when Grandpa Hurley was just arriving in the Pacific, Allied troops were poised to retake the Philippines. On September 25, 1944, "MacArthur's army units assaulted Morotai on September 15, completely bypassing the large Japanese garrison on Halmahera.... leaving some 25,000 Japanese soldiers stranded on Halmahera while the Americans built airfields to support the invasion of the Philippines on Morotai..." However, Bill Hurley didn't get to Morotai until January 15, 1945. He stayed there for a couple of months, heading to Palawan in April, where he stayed for a month. He was sent far south to Central Bureau in Australia at this point, and he stayed there throughout May and into June 1945. He went to Leyte, in the Philippines, on June 8, 1945, which was again fairly safe: "In bitter fighting from November 27 to December 12 [1944], the Americans succeeded in defeating this effort [to counter-attack]. By that time, an additional major American landing at Ormoc on the west coast of Leyte on December 7 had created a critical situation for the Japanese on the island.... On December 21....The remaining Japanese has been divided into several separate groups which fought on until April 1945...."
When the surrender documents were signed, Bill Hurley was on the Philippine island of Leyte. He was briefly attached to the 13th Air Force's 6th Photo Tech Squadron, but he'd have to wait months before he could be sent back to the continental United States for final discharge and travel home. Once ashore, he traveled to Wisconsin's Fort McCoy for discharge. He had a final period of leave, from December 29, 1945 to January 7, 1946. On January 17, 1946, he was discharged from active duty. On October 1, 1946 he was promoted to first lieutenant, retroactively effective to December 27, 1945. On October 9, 1952 he refused an indefinite Air Force Reserve Officer appointment, and so on April 1, 1953 his commission expired, thereby ending his military service to the United States.
---
| Home |
| Introduction | Main | Timeline | Maps | Gallery | Decorations & Medals |
| Appendix 1 | Appendix 2 |
| Works Consulted | Agencies Consulted | Individuals Consulted | Websites |