Return to Naval Historical Center home page.

Return to Online Library listing


DEPARTMENT OF THE NAVY -- NAVAL HISTORICAL CENTER
805 KIDDER BREESE SE -- WASHINGTON NAVY YARD
WASHINGTON DC 20374-5060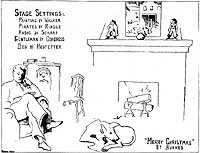 Online Library of Selected Images
-- ART TOPICS -- ARTISTS
Roberta Gorsuch (Mrs. Arleigh A.)Burke), 1899-1997
Roberta Gorsuch was born in Lawrence, Kansas, in early January 1899. Her family moved to the Washington, D.C., area during World War I and she was subsequently employed by the U.S. Treasury Department. In 1920 she met Arleigh A. Burke, then a U.S. Naval Academy Midshipmen, and they were married when he graduated in June 1923. Over next thirty-eight years they shared the itinerate life style of an active duty Naval officer and his wife, as Arleigh Burke rose through the ranks to become Chief of Naval Operations. With his retirement from active duty in August 1961 they began nearly thirty-five more busy, if somewhat less mobile, years together. Roberta Gorsuch Burke died at her home in Fairfax, Virginia, on 4 July 1997, a year and a half after Admiral Burke passed away.
This page provides links to photographs of drawings by Roberta Gorsuch Burke.
The following drawings were made by Roberta Gorsuch Burke:

Return to Naval Historical Center home page.
Page made 31 January 2006