Return to Naval Historical Center home page.

Return to Online Library listing

DEPARTMENT OF THE NAVY -- NAVAL HISTORICAL CENTER
805 KIDDER BREESE SE -- WASHINGTON NAVY YARD
WASHINGTON DC 20374-5060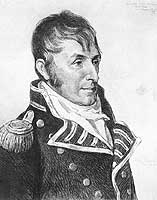 Online Library of Selected Images
-- ART TOPICS -- ARTISTS
Albert Rosenthal (1863-1939)
Albert Rosenthal was born in Philadelphia, Pennsylvania, on 30 January 1863, the son of the etcher and lithographer Max Rosenthal (1833-1918). His artistic education under his father and at the Pennsylvania Academy of Fine Arts was followed some years later by further studies in Europe. In 1892 Rosenthal established a portrait studio in Philadelphia, where he continued to work for the rest of his active career. He died in 1939.
This page provides links to photographs of artworks by Albert Rosenthal.
The following portraits were executed by Albert Rosenthal:

Return to Naval Historical Center home page.
Page made 6 October 2002