Return to Naval History and Heritage Command home page.

Return to Online Library listing


DEPARTMENT OF THE NAVY -- NAVAL HISTORY AND HERITAGE COMMAND
805 KIDDER BREESE SE -- WASHINGTON NAVY YARD
WASHINGTON DC 20374-5060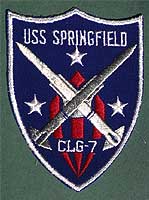 Online Library of Selected Images
-- ART TOPICS -- U.S. Navy Ships' Insignia
The nearly-universal use of insignia by U.S. Navy ships began only in the mid-1950s, when the Chief of Naval Operations issued an instruction (Opnav Inst 5030.2) encouraging the adoption and display of these emblems, and establishing standards for their design. Prior to that time the use of ships' insignia was often actively discouraged, though many ships had them, especially during World War II.
This was most commonly true in the submarine community, where individual divisions and squadrons had used emblems since the First World War. In addition, aviation units had a long-standing tradition of individual insignia, and this sometimes migrated to their host ships. The Second World War also saw the adoption of insignias by many other types of ships, all on a relatively informal basis and without much guidance from, or control by, higher authority. Frequently, the designs were cartoons, in many cases contributed by the major motion picture studios. The emblems were often painted on ship pilothouses and smokestacks, exhibited on battle flags, and reproduced on matchbook covers and other keepsakes.
Insignia use by individual ships declined after the end of World War II, but came back into vogue during the Korean War, again with widespread use of cartoon figures. Official recognition of the practice, soon after the Korean armistice, assigned authority over ship insignia to the major fleet commanders. This resulted in considerable diversity in design and exhibit standards. Gradually, cartoon patterns were replaced by more traditional heraldic forms. Ships were generally prohibited from exhibiting their individual emblems externally, though the painting of squadron insignia on ships' superstructures was very common. They also could not be worn on Sailors' service uniforms but, following the the aviation community's practices, the emblems were allowed on working jackets. This produced a thriving market for colorful embroidered patches. Ship insignias were (and are) also extensively used on presentation plaques, coffee mugs, cigarette lighters and a wide variety of other personal objects.
Despite their extensive popularity in the Navy community, and some degree of official oversight of their design, U.S. Navy ships' insignia essentially belong to the individual ships' crews. No one Navy office maintains responsibility for them, and there is no central repository for them. As will be seen from the examples provided in this section, to a great extent the Naval History and Heritage Command's collection of ship emblem photographs is derived from the efforts of private individuals, who have very kindly provided us with images of insignia in their personal collections.
This page provides links to views of the insignias used by U.S. Navy ships, along with links to general picture coverage of some of the ships.
Note: The Online Library's coverage of ship's insignia is, as yet, very incomplete, and will remain so for some time. Therefore, if you do not find the emblem you seek in the list referenced below, contact the Photographic Section concerning other research options.
Select the first letter of the ship's name from the listing below, and follow subsequent pages to emblems of the specific ship you want.
NOTES:

To the best of our knowledge, the Online Library's pictures are all in the Public Domain, and can therefore be freely downloaded and used for any purpose.


Some images linked from this page may bear obsolete credit lines citing the organization name: "Naval Historical Center". Effective 1 December 2008 the name should be cited as: "Naval History and Heritage Command".







Return to Naval History and Heritage Command home page.
Page made 19 January 2003
Coding updated 22 April 2009