Return to Naval Historical Center home page.

Return to Online Library listing

DEPARTMENT OF THE NAVY -- NAVAL HISTORICAL CENTER
805 KIDDER BREESE SE -- WASHINGTON NAVY YARD
WASHINGTON DC 20374-5060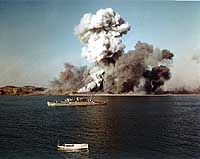 Online Library of Selected Images:
-- EVENTS -- The Korean War, 1950-1953 --
The Hungnam Evacuation, 10-24 December 1950 --
Overview and Selected Images
Generally described as an "amphibious operation in reverse", the evacuation of Hungnam encompassed the safe withdrawal of the bulk of UN forces in eastern North Korea. It was the largest sealift since the 1945 Okinawa operation. In barely two weeks, over a hundred-thousand military personnel, 17,500 vehicles and 350,000 measurement tons of cargo were pulled out. In comparison with the retreat in central and western Korea, little was left behind. Even broken-down vehicles were loaded and lifted out. Also departing North Korea through Hungnam were some 91,000 refugees, a large number, but not nearly as many as had gathered to leave.
The first major unit to go was the First Marine Division, which arrived in Hungnam on 10-11 December after its successful fighting withdrawal from the Chosin Reservoir area. The Marines were followed by Republic of Korea troops, the U.S. Army Seventh Division and Third Division. The ROK First Corps was landed at Mukho, on the Korean east coast below the Thirty-eighth Parallel. U.S. forces were mainly taken to Pusan, where the influx initially overwhelmed that port's capacity.
Though the Chinese did not seriously interfere with the withdrawal, the potential threat they represented necessitated a vigorous bombardment by aircraft, artillery ashore and ships' guns. Air cover was available from nearby Yonpo airfield until that was abandoned on 14 December. Thereafter, for the final ten days of the operation, Navy and Marine carrier-borne planes handled the job. Naval gunfire was provided by two heavy cruisers and a battleship plus several destroyers and rocket ships.
This page features a special selection of Hungnam evacuation images, and provides links to broader pictorial coverage of that operation.
For more pictures of the December 1950 Hungnam evacuation, see: