Return to Naval Historical Center home page.

Return to Online Library listing

DEPARTMENT OF THE NAVY -- NAVAL HISTORICAL CENTER
805 KIDDER BREESE SE -- WASHINGTON NAVY YARD
WASHINGTON DC 20374-5060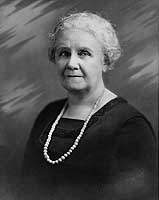 Online Library of Selected Images:
-- PEOPLE -- UNITED STATES --
Chief Nurse Esther Voorhees Hasson, U.S. Army, (1867-1942)
Esther Voorhees Hasson was born in Baltimore, Maryland, on 20 September 1867. She graduated from the Connecticut Training School for Nurses, in New Haven, in 1897. In June 1898, during the Spanish-American War, Miss Hasson became a contract nurse with the U.S. Army, subsequently serving on the hospital ship Relief and in the Philippines. She left the Army in 1901. In 1905-07, she served as a nurse in Panama.
When the Navy Nurse Corps was established in 1908, Miss Hasson became its first Superintendent, taking the oath of office on 18 August 1908. Under her leadership, 19 additional nurses were recruited and trained for Naval service during 1908. The Nurse Corps had grown to 85 trained nurses by the time Miss Hasson resigned as Superintendent in January 1911.
In June 1917, Esther Hasson became a U.S. Army Reserve Nurse. She served in Europe during the First World War and into 1919, including duty as Chief Nurse of two Army Base hospitals, and left active service in June 1919. Chief Nurse Esther V. Hasson died in Washington, D.C., on 8 March 1942.
This page features our only images of Esther Voorhees Hasson.
Click on the small photograph to prompt a larger view of the same image.
Photo #: 80-G-1037199

Esther Voorhees Hasson

First Superintendent of the Navy Nurse Corps, from 18 August 1908 to 10 January 1911.

Official U.S. Navy Photograph, now in the collections of the National Archives.

Online Image: 63KB; 590 x 765 pixels

Reproductions of this image may also be available through the National Archives photographic reproduction system.

Photo #: NH 52960

"The Sacred Twenty"

Group photograph of the first twenty Navy Nurses, appointed in 1908. Taken at the Naval Hospital, Washington, D.C., circa October 1908.
They are identified in Photo # NH 52960 (Complete Caption).

U.S. Naval Historical Center Photograph.

Online Image: 99KB; 740 x 575 pixels

Return to Naval Historical Center home page.
28 December 1999