Return to Naval Historical Center home page.

Return to Online Library Listing


DEPARTMENT OF THE NAVY -- NAVAL HISTORICAL CENTER
805 KIDDER BREESE SE -- WASHINGTON NAVY YARD
WASHINGTON DC 20374-5060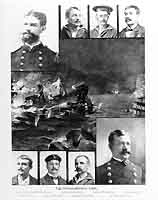 Online Library of Selected Images:
-- PEOPLE -- UNITED STATES --
Chief Machinist's Mate Francis Kelly, USN, (1860-1938)
Francis Kelly was born on 5 July 1860 in Boston, Massachusetts. He enlisted in the US Navy from that state and served as a Watertender in the collier Merrimac during the Spanish-American War. Kelly was one of eight volunteer crew members when Rear Admiral William T. Sampson ordered Merrimac sunk to block the entrance of Santiago Harbor, Cuba. On the night of 2-3 June 1898, during the courageous attempt to execute this mission, Merrimac's steering gear was disabled by enemy gunfire, and she sank without obstructing navigation. Her crewmen were rescued by the Spanish and made prisoners-of-war. After the Battle of Santiago de Cuba destroyed the Spanish fleet a month later, Kelly and his shipmates were released. For his "extraordinary heroism" during this operation, he was awarded the Medal of Honor.
Francis Kelly remained in the Navy after the Spanish-American War, ultimately obtaining the rank of Chief Machinist's Mate. He died on 19 May 1938 in Glasgow, Scotland and is buried at Glasgow's Sandymount Cemetery.
This page features the only image we have concerning Francis Kelly.
Click on the small photograph to prompt a larger view of the same image.
Photo #: NH 79954

USS Merrimac Operation, 3 June 1898

Halftone reproduction of a photograph, published in "Deeds of Valor," Volume II, page 370, by the Perrien-Keydel Company, Detroit, 1907. This image shows an artistic interpretation of the scuttling of USS Merrimac across the entrance of Santiago Harbor, Cuba, with portraits of her crew on this mission. The crew members from upper left to right are Lieutenant Richmond P. Hobson, Coxswain Claus K. R. Clausen (note: official sources state Clausen's first name to be Claus, not Randolph), Coxswain Osborn W. Deignan, Watertender Francis Kelly. The crew members from lower left to right are Coxswain John E. Murphy, Chief Master-At-Arms Daniel Montague, Machinist First Class George F. Phillips, and Gunner's Mate First Class George Charette. All the crew members received the Medal of Honor for this operation.

U.S. Naval Historical Center Photograph.

Online Image: 87KB; 585 x 765 pixels

Medal of Honor citation of Watertender Francis Kelly (as printed in the official publication "Medal of Honor, 1861-1949, The Navy", page 76):


"In connection with the sinking of the U.S.S. Merrimac at the entrance to the harbor of Santiago de Cuba, 2 June 1898. Despite heavy fire from the Spanish batteries, KELLY displayed extraordinary heroism throughout this operation."

Return to Naval Historical Center home page.
Page made 3 May 2006