Return to Naval History and Heritage Command home page.

Return to Online Library listing


DEPARTMENT OF THE NAVY -- NAVAL HISTORY AND HERITAGE COMMAND
805 KIDDER BREESE SE -- WASHINGTON NAVY YARD
WASHINGTON DC 20374-5060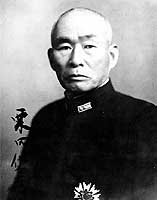 Online Library of Selected Images:
-- PEOPLE -- JAPAN --
Vice Admiral Takeo Kurita, Imperial Japanese Navy, (1889-1977)
Takeo Kurita was born in 1889 and graduated from the Japanese Naval Academy in 1910. Specializing in torpedoes, he had extensive service in destroyers during the 1920s and 1930s, and was promoted to Rear Admiral in 1938.
During World War II, he was one of the most actively-employed Japanese Navy flag officers. Rear Admiral Kurita commanded a cruiser division during the East Indies invasion and the Battle of Midway, losing the cruiser Mikuma during the latter action. As a Vice Admiral later in 1942, Kurita led a battleship division in the Guadalcanal campaign, conducting an intense bombardment of Henderson Field on 14 October. He subsequently commanded major naval forces during the Central Solomons campaign, the Battle of Philippine Sea and the Leyte Gulf Campaign. In the latter action, on 24-25 October 1944, he led the main Japanese surface force in the Battle of the Sibuyan Sea and the Battle off Samar, suffering heavy losses at the hands of overwhelming U.S. submarine, air and surface units.
This page features our only picture of Vice Admiral Takeo Kurita, IJN.
Click on the small photograph to prompt a larger view of the same image.
Photo #: NH 63694

Vice Admiral Takeo Kurita, Imperial Japanese Navy

Portrait photograph, taken during World War II.

Original photograph was in the files of Rear Admiral Samuel Eliot Morison, USNR.

U.S. Naval History and Heritage Command Photograph.

Online Image: 78KB; 580 x 765 pixels
NOTES:

To the best of our knowledge, the pictures referenced here are all in the Public Domain, and can therefore be freely downloaded and used for any purpose.


Some images linked from this page may bear obsolete credit lines citing the organization name: "Naval Historical Center". Effective 1 December 2008 the name should be cited as: "Naval History and Heritage Command".







Return to Naval History and Heritage Command home page.
Page made 4 May 1999
Coding updated 3 May 2009