Return to Naval Historical Center home page.

Return to Online Library listing

DEPARTMENT OF THE NAVY -- NAVAL HISTORICAL CENTER
805 KIDDER BREESE SE -- WASHINGTON NAVY YARD
WASHINGTON DC 20374-5060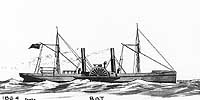 Online Library of Selected Images:
-- CIVILIAN SHIPS --
Steamship Bat (Blockade Runner, 1864).
Later USS Bat (1864-1865); civilian steamship Teazer (1865-1872) and civilian steamship Miramichi (1872 - circa 1902)
Bat, a 750-ton (burden) Owl class side-wheel steamship, was built in Liverpool, England, in 1864 for the Confederate States Government. Though maintaining British commercial registry, she was manned by the Confederate Navy with the intent of running badly needed supplies and equipment through the Federal blockade of the Southern coast. On her first such voyage, Bat was captured by USS Montgomery as she attempted to enter the port of Wilmington, North Carolina, on 10 October 1864.
About a month later, the Navy purchased the former blockade runner, converted her to a gunboat and, in mid-December 1864, placed her in commission as USS Bat. She served off the Atlantic coast and in the Potomac River area during the remaining months of the Civil War. Decommissioned in mid-May 1865, Bat was sold in October of that year to civilian owners. She was employed commercially under the name Teazer until 1872, when she reentered British registry as Miramichi. The steamer operated in Canadian waters for three more decades, and was finally scrapped in about 1902.
This page features our only view of the Confederate blockade runner Bat, which was USS Bat in 1864-1865.
Click on the small photograph to prompt a larger view of the same image.
Photo #: NH 63846

Bat (Blockade Running Steamship, 1864)

Watercolor by Erik Heyl, 1951, painted for use in his book "Early American Steamers", Volume I.
Bat, a blockade runner owned by the Confederate Government, became USS Bat (1864-1865) after she was captured. Following the Civil War she operated in merchant service under the names Teazer and Miramichi.

Courtesy of Erik Heyl.

U.S. Naval Historical Center Photograph.

Online Image: 55KB; 740 x 395 pixels

Return to Naval Historical Center home page.
Page made 3 November 2002