Return to Naval Historical Center home page.

Return to Online Library listing

DEPARTMENT OF THE NAVY -- NAVAL HISTORICAL CENTER
805 KIDDER BREESE SE -- WASHINGTON NAVY YARD
WASHINGTON DC 20374-5060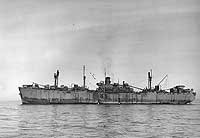 Online Library of Selected Images:
-- CIVILIAN SHIPS --
Carlos Carrillo (American "Liberty" Ship Troop Transport, 1943)
SS Carlos Carrillo was a civil registry troopship converted from a standard 7160 gross ton EC2-S-C1 "Liberty" ship. She was launched at Terminal Island, Los Angeles, California, in January 1943 and operated for the rest of World War II and briefly into the postwar period. The ship was scrapped at Portland, Oregon, in 1963.
This page features our only view of the SS Carlos Carrillo, a troop transport converted from a Liberty Ship.
Click on the small photograph to prompt a larger view of the same image.
Photo #: NH 98700

SS Carlos Carrillo ("Liberty" Ship transport, 1943)

In San Francisco Bay, California, circa late 1945 or early 1946.
Note large number of men crowding her decks and gun platforms.

Donation of Boatswain's Mate First Class Robert G. Tippins, USN (Retired), 2003.

U.S. Naval Historical Center Photograph.

Online Image: 84KB; 740 x 535 pixels

Return to Naval Historical Center home page.
Page made 22 March 2003