Return to Naval Historical Center home page.

Return to Online Library listing

DEPARTMENT OF THE NAVY -- NAVAL HISTORICAL CENTER
805 KIDDER BREESE SE -- WASHINGTON NAVY YARD
WASHINGTON DC 20374-5060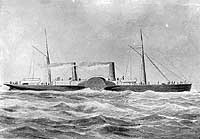 Online Library of Selected Images:
-- CIVILIAN SHIPS --
Steamship Colonel Lamb (Blockade Runner, 1864)
Colonel Lamb, a 1788-ton side-wheel steamer, was built at Liverpool, England, in 1864 for employment running the Federal blockade of the Confederate coast. She successfully ran into the port of Wilmington, North Carolina, in late November 1864 and escaped back to sea the next month. In January 1865, with east coast blockade running at an end, she went to the Gulf of Mexico but was found unsuitable for operation into Galveston, Texas, and returned to England a few months later. Reportedly sold to Greek interests and renamed Bouboulina, she was destroyed in an explosion while loading munitions at Liverpool in 1866 or 1867.
This page features our only view of the blockade runner Colonel Lamb.
Click on the small photograph to prompt a larger view of the same image.
Photo #: NH 55257

Confederate Blockade Runner Colonel Lamb (1864-1865)

Lithograph published during the Civil War era.

U.S. Naval Historical Center Photograph.

Online Image: 114KB; 740 x 540 pixels

Return to Naval Historical Center home page.
11 November 2001