Return to Naval Historical Center home page.

Return to Online Library listing

DEPARTMENT OF THE NAVY -- NAVAL HISTORICAL CENTER
805 KIDDER BREESE SE -- WASHINGTON NAVY YARD
WASHINGTON DC 20374-5060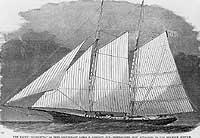 Online Library of Selected Images:
-- CIVILIAN SHIPS --
Schooner Yacht Henrietta (1861);
Served as the U.S. Revenue Marine schooner Henrietta in 1861-1862
Henrietta, a 170-ton schooner, was built in 1861 as a yacht for James Gordon Bennett, Jr.. He loaned her to the U.S. Treasury Department's Revenue Marine soon after the outbreak of the Civil War and served as her Commanding Officer when she was placed in service in June 1861. Henrietta cruised off Long Island, New York, for several months and by February 1862 had gone south to Port Royal, South Carolina. In early March she participated in the capture of Fernandina, Florida. Henrietta, and her wealthy skipper, returned to civilian life in May 1862. In December 1866, well after the Civil War had ended, Bennett sailed her in a transatlantic race, which they won with a passage of 13 days, 22 hours.
This page features our only view of the schooner yacht Henrietta.
Click on the small photograph to prompt a larger view of the same image.
Photo #: NH 59584

Schooner Yacht Henrietta

Line engraving, published in "Harper's Weekly", 10 August 1861. It depicts Henrietta operating under the U.S. Revenue Service flag during the early part of the Civil War. She was commanded by Lieutenant James Gordon Bennett, Jr., who was her owner as a civilian yacht.

U.S. Naval Historical Center Photograph.

Online Image: 144KB; 740 x 535 pixels

Return to Naval Historical Center home page.
Page made 31 December 2003