Return to Naval Historical Center home page.

Return to Online Library listing

DEPARTMENT OF THE NAVY -- NAVAL HISTORICAL CENTER
805 KIDDER BREESE SE -- WASHINGTON NAVY YARD
WASHINGTON DC 20374-5060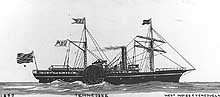 Online Library of Selected Images:
-- CIVILIAN SHIPS --
Tennessee (American Steamship, 1853-1865).
Renamed Republic in 1865.
Served as the Confederate steamer Tennessee in 1862, and as USS Tennessee and USS Mobile in 1862-1865
Tennessee, a 1275-ton (burden) wooden-hulled side-wheel steamship, was built at Baltimore, Maryland, in 1853. Prior to the Civil War she was employed in commercial service. Caught at New Orleans, Louisiana, after the conflict began, she was seized there by Confederate authorities in January 1862 and may have been used to run the Federal Blockade during the next month. When Federal forces captured New Orleans in April, Tennessee was also taken.
Soon purchased by the U.S. Navy, she was commissioned as USS Tennessee in May 1862. A fast vessel, she was employed in the Gulf of Mexico on blocade, supply and dispatch duties for almost all of the remaining portion of the Civil War. Among her activities were the capture of several sailing blockade runners; participation in an action at White Hall Point, Louisiana, on 10 July 1863 and in the campaign to capture the entrances of Mobile Bay in August 1864. Once the U.S. Navy had taken the former Confederate ironclad Tennessee into its own service, the Navy's older Tennessee needed renaming. Accordingly, at the beginning of September 1864 she became USS Mobile.
During the last months of 1864 and into 1865, Mobile continued her service in the West Gulf Blockading Squadron. However, her increasing need for repairs, some of it caused by age and some by severe storm damage received off the Rio Grande in late 1864, led to her decommissioning. Sold towards the end of March 1865, the steamship returned to commercial employment under the name Republic. Her new career was short, though. On 25 October 1865 she was lost in a hurricane off Savannah, Georgia.
This page features our only view of the steamship Tennessee, which served as USS Tennessee and USS Mobile in 1862-1865.
Click on the small photograph to prompt a larger view of the same image.
Photo #: NH 63841

Tennessee (American Steamship, 1853)

Watercolor by Erik Heyl, 1948, painted for use in his book "Early American Steamers", Volume I.
This steamer became USS Tennessee in 1862. Renamed Mobile in September 1864, she remained in Navy service until sold in March 1865. She was renamed Republic upon her return to civilian ownership, but was lost in a hurricane on 25 October 1865.

Courtesy of Erik Heyl.

U.S. Naval Historical Center Photograph.

Online Image: 59KB; 740 x 350 pixels

Return to Naval Historical Center home page.
Page made 10 November 2002