Return to Naval Historical Center home page.

Return to Online Library listing

DEPARTMENT OF THE NAVY -- NAVAL HISTORICAL CENTER
805 KIDDER BREESE SE -- WASHINGTON NAVY YARD
WASHINGTON DC 20374-5060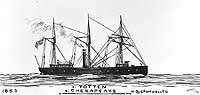 Online Library of Selected Images:
-- CIVILIAN SHIPS --
Steamship Totten (1853-1881).
Renamed Chesapeake in 1857 and briefly captured by Confederates in 1863
Totten was a 460-ton wooden steamship built in 1853 at Philadelphia, Pennsylvania. She was rebuilt and renamed Chesapeake in 1857. During the Civil War era she served in the coastal trade between Portland, Maine, and New York City. While off Cape Cod, Massachusetts, en route to Portland on 7 December 1863, Chesapeake was violently seized by a party of Confederate sympathizers operating under the color of a very dubious letter of marque. The captors conveyed their prize to Nova Scotia in an effort to obtain coal and steam her to Wilmington, North Carolina. However, she was captured at Sambro Harbor, N.S., by USS Ella and Annie on 17 December. Turned over to the authorities at Halifax, she was returned to her owners after a legal determination that her original seizure was illegitimate. Chesapeake subsequently continued her commercial employment until 1881.
This page features our only view of the steamship Totten, which was renamed Chesapeake in 1857.
Click on the small photograph to prompt a larger view of the same image.
Photo #: NH 67079

Totten (American Merchant Steamship, 1853-1881)

Watercolor by Erik Heyl, 1952, painted for use in his book "Early American Steamers", Volume III.
This steamer was rebuilt in 1857 and subsequently operated under the name Chesapeake. On 7 December 1863, while en route from New York to Portland, Maine, she was captured by a group of Confederate sympathizers who had taken passage in her. They intended to take her to Wilmington, North Carolina, but the ship was recaptured in Nova Scotian waters. The authorities at Halifax subsequently returned Chesapeake to her owners.

Courtesy of Erik Heyl.

U.S. Naval Historical Center Photograph.

Online Image: 64KB; 740 x 375 pixels

Return to Naval Historical Center home page.
Page made 21 October 2001
Link added 7 July 2002